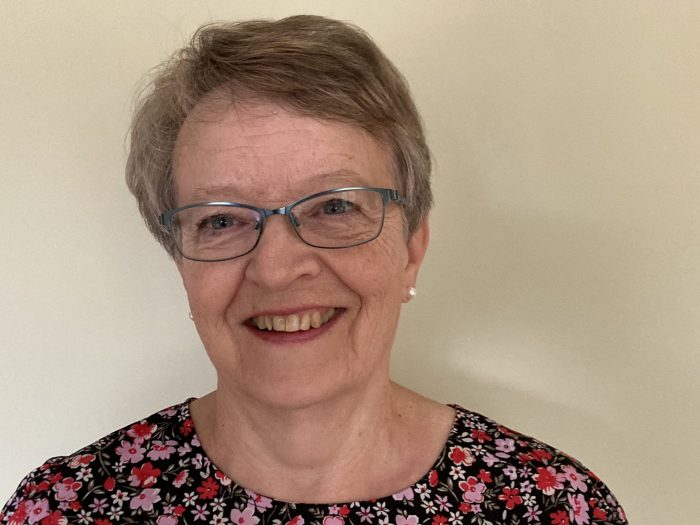 MWiB CoChair North
MWiB CoChair North
Contact Ruth by email at: cochairnorth.mwib@gmail.com
I was born in Stockport into a Methodist family. My father was a Local Preacher, my mother, a Sunday School Teacher and my uncle, a Methodist Minister. I met my husband, Michael, who was training to be a Local Preacher, at a weekend Youth Conference in Buxton. I trained as a teacher, specialising in music, at Bretton Hall College of Education in West Yorkshire and we married as I left college and as Michael began his training for the ministry. We have a son and a daughter and four lovely grandchildren. We currently live in the attractive, rural town of Nantwich in Cheshire.
I have taught in a variety of Primary Schools in the places we have been stationed – Stockport, Warrington, Sandbach, Cheadle (Staffs) and Newcastle Under Lyme, almost all in deprived areas and one in a tiny village school in the Staffordshire Moorlands. In all the schools I have been responsible for Music and RE. I became very interested in interfaith relationships and in 2008/9 I was awarded a Farmington Fellowship to study 'Music in Different Faiths' at the Farmington Institute, Harris Manchester College, Oxford.
As a minister's wife, I have supported my husband; sharing services as a Worship Leader, organising events, becoming involved with many women's activities, starting Mother and Toddler groups and presiding at local and circuit 'Network' and MWiB meetings. I served on the Chester and Stoke-on-Trent District Young Wives' Committee and also on the Connexional Young Wives' Committee. When I retired in 2011, I became more involved with the Circuit and District MWiB and had the privilege of serving as District President 2015-17 during which I attended the WFM&UCW 13th Assembly at Houston and the Unit Area Seminar in Belfast. I am a volunteer at Englesea Brook Chapel and Museum of Primitive Methodism which highlights the importance of the role played by women, not least, in teaching and preaching. I have travelled widely; the most memorable visits being to a South African Township, Israel, China and educational establishments in Australia.
Music plays an important part in my life. When the children were young, I taught the piano at home – which paid for our holidays and my driving lessons! I have enjoyed directing several church choirs and their performances of musicals. Recently, before 'Lockdown', I sang in the church choir which has a ministry of bringing music to the local communities and was a member of 'The Border Singers' – a more serious choir!
I have a passion for Social Justice, particularly Climate Change, the eradication of poverty and the global right for education, for Creative Spirituality, Pilgrimage and Interfaith Relationships. I am really looking forward to developing the work at Touchstone and to working with you all across the Connexion.