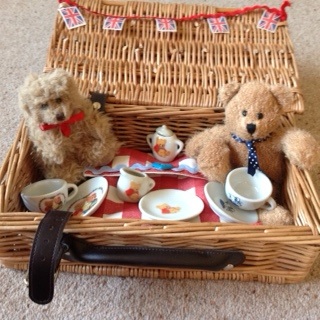 A little voice seems to ask me,
So I ask you, too,
"Where is your playtime?"
You know, that time when you put
Duty aside,
When the Puritan inside you lets go
And the frivolous joy of living
Escapes.
You know- that time when you toss stones in a pool
Watching the circles move out,
Or skim them across the surface
Watching the bounces with glee,
When you hop and you skip and you fling your arms wide
Just for the joy of it all
(as long as no one is looking.)
You know- when you play with a child
And ENJOY being 'young',
Though your knees and your arms
Don't obey as they did.
Hello, my Loving God, I hope
You didn't think it
A waste of my time.
I thought I heard you chuckle too,
I thought I heard a gasp of breath
As I tried to jump over the fence
I am sure you were there
Enjoying it too.
Remind us Lord, that you created us
To enjoy all that you have made.
Thank you for fun
Amen
Hazel Parsons
Reading. Luke 12:22-34
SthF. 61 our God is a great big God