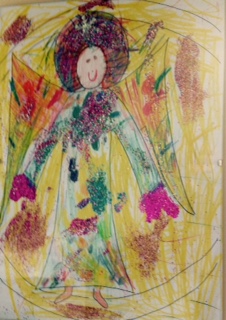 This is my kitchen Angel.
I looked at her and thought
' Was that how the Angels felt on Easter Day?'
Our Easter Day angels are white and pure and clean
Of course they are Lord.
But did they feel all colourful and brilliant
Wishing to scatter glitter and dazzle and brightness?
Fizzy with Joy?
Lord, you know this angel:
A gift from a four year old grandchild,
A Christmas Angel.
But this year I gazed at her place
Just inside the back door
And suddenly
She seemed to shout
'Alleluia, Christ is risen
Did you think I only belonged to Christmas?'
Risen Lord
You brought, and you bring, colour and life,
Energy and hope
Into the world we inhabit.
By your death and resurrection, Jesus,
Hope surges through our veins
Despite all that the world tries to destroy.
In the days to come may we remember that hope-
Sprung from the heart of a loving Father,
Poured into our hearts by the compassion of Christ
And nurtured by his Spirit.
Alleluia!  Alleluia! Alleluia!
Glory be to the Father
To the risen Son
To the Holy Spirit
For ever and ever
And the kitchen Angel laughed
As she sang:
'AMEN'
Hazel Parsons
( with thanks to the Christmas Angel)
Reading: Luke 24:1-12
SthF.: 292. After darkness light, after winter spring