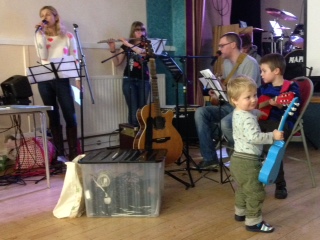 They practice and make each phrase and note
As perfect as may be,
Because they play for worship.
Then a young lad comes and wants to take his place
And a toddler joins
His serious face
Making us smile.
We sing, they play,
We smile and even chuckle
And the song goes up to heaven.
Right notes, wrong notes,
Chuckles, dreams, desires, voices
Blending as the family of God,
Your family, most Gracious Heavenly Father,
Raising praise, thanksgiving, worship
To you the centre of our lives.
We leave:
Some singing humming, strumming,
Some pensive and reflective,
Some suddenly plunged back into
The struggle of everyday.
We take with us:
An awareness of your glory,
A chuckle at the way you use us all in your family,
A gentle smile that none have been excluded from your band
Because they did not fit,
Nor had the skills.
A joyful noise of celebration
To carry with us,
To echo in our homes,
At work, in the wide fresh air,
At bus stop, supermarket queue,
A joyful celebration,
Not to be quashed
By trouble
If somewhere inside
We hear its echoes
Singing.
Accept our prayers of praise
Most Loving Lord
Amen. Hazel Parsons
Reading: Psalm 66
SthF. 42. O sing to the Lord