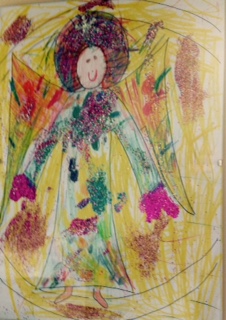 A Deeply Joyous Day to all
Lovingly we have unpacked the little family,
the shepherds and the wise men,
and set them out.
Mary usually seated dressed in blue –
We are heedless of the travelling and the trauma of birth itself;
Joseph, upright holding a stave,
accepting this role with which we seem to leave him wordless;
And the Infant –
The tiny baby whose vulnerability
each year reminds us that
this is truly Christmas.
Some years we can feel the reality of the story
as we watch the news
and know that, like so many,
Mary and Joseph are the victims of imposed authority;
like so many their child was born in the equivalent of a tent.
Father, how can we not learn?
We sing the carols, some with strong lyrics,
we support Crisis at Christmas and similar charities
and yet know not how to meet the unending need.
Gracious God you did not scorn to share our humanity
in all its muddles and heart rending troubles.
Instead you simply chose to be alongside us so we could truly sing
Immanuel God With Us and know it to be true.
This day bless all those who serve Christmas Dinner
To the homeless and hapless;
Be with the lonely and neglected;
Speak with those whose trust and belief
Has gone astray:
Loving God we looked for your coming
And
Today we greet you
Born in Bethlehem
But living within us
Ever more
Amen.
Reading: Luke 2:1-20
STF 176   Like a candle flame
Above is the picture of my kitchen Angel.
I used her/him for the Easter Sunday Prayer
and suddenly thought this is the right picture for today.
The Angel lives just inside the back door
and is a constant presence, whether or not I take notice.
God is constant whether or not we notice!
Christmas Blessings! Hazel
Prayers for December by Hazel Parsons