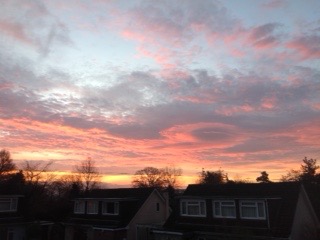 A recognition
An awakening
A wondering……..
A shout
AN EPIPHANY
Oh Lord,
God of the Universe
And everything in it,
Wake us
Overwhelm us
Inspire and
Regenerate us.
Sunrise
The glory of the sky!
Clouds coloured and transformed
By the awakening light.
Sometimes we stop to gaze,
Our breath caught by the glory
Surrounding us
Our minds suddenly stalling
With the thought –
'If this is here on earth
Then what is heaven like?
Praise and thanksgiving
Bubble up,
Overflow
Yet we are speechless.
Words insignificant
Thoughts beyond articulation.
Yet our spirits respond,
Our hearts lift,
Our hopes rise
And we know
Something of the Angels' song,
The brightness of the star,
The awe and reverence of those wise men
Kneeling
Believing.
Our own Epiphany
Is a precious insight
Where we believe
Suddenly;
Somehow knowing a little of
The truth:
Immanuel, God with us!
Amen.
Reading: Matthew 2:1-12
STF 230   Riding out across the desert
 Prayers for January by Hazel Parsons