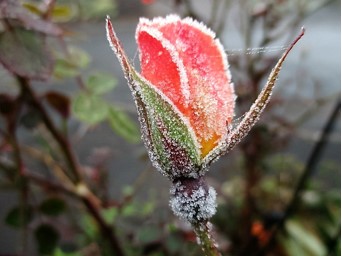 I am struggling God, my Father;
I am struggling to find the right words;
Words which will help
And not hinder;
Words which will not be platitudes;
Words which when lifted from the page
Will fly up to you
And be real,
I am struggling.
I am searching, Compassionate Jesus,
For an image to offer
To those
Who at wintry times
Struggle to find words to express
Their deep despair,
Even whilst smiling and carrying on
As if in the midst of Spring or Summer.
Struggling and searching.
Holy Spirit, suddenly
I have an image of a frosted rosebud –
It is extraordinarily beautiful.
Its perfect winter shape shines with the icy particles.
I do not know whether it opened,
Or whether the frost curtailed its life.
I do know it was a beautiful sight
On a wintry day.
Merciful God, we struggle
With our own lives.
Sometimes they are cold and bitter,
Sometimes they are empty or curtailed,
Sometimes it is almost impossible
To make our eyes shine
With your love.
Keep us aware of your Cross,
Of life hung up to die;
Breath struggling and gasping;
Yet spirit still forgiving –
Even in what felt like
True desertion, desolation.
With Resurrection you brought forgiveness
Not retribution!
Gave us a hope
When all hope seems frosted and destroyed,
Taught us to see beyond the emptiness.
Holy Trinity,
Father, Son and Spirit,
When our lives are wintry
Frosted by bitter weather,
Reach out for us that
We may reach out for you.
Then, as we struggle to find a little spark
Of Spring deep within our very being,
May we catch a glimpse of the
'Rosebud' that we are
and know
We are beautiful
To you.
Amen. 
Reading: Psalm 13
STF 306   Now the green blade rises
Prayers for January by Hazel Parsons