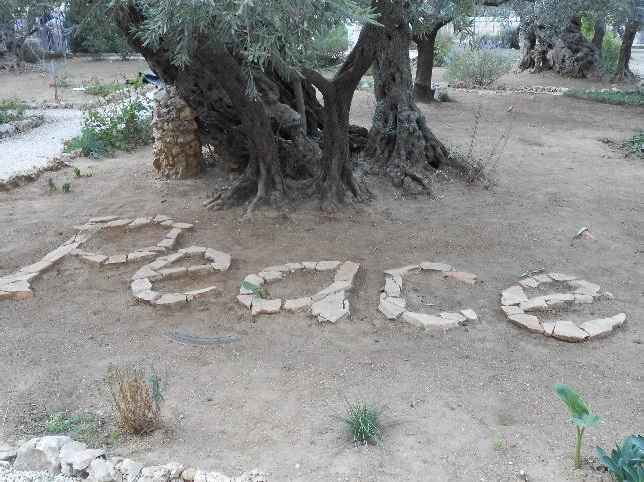 Week Five – Passion Sunday
written by Linda Crossley
Let your light shine
At the time of writing, it is just over a year since the MWiB pilgrimage to the Holy Land. I have so many special memories of places and experiences in the land of Jesus' birth, which have illuminated my prayer and Bible reading throughout that year, and are starting to do so again as I approach Advent. But equally powerful were the sites and the stories associated with Jesus' Passion, his suffering and death.
This photograph, which I took in the Garden of Gethsemane, has stayed with me, as a constantly challenging image. The very place in which Jesus suffered agonies on the night of his arrest, let down by his disciples and arrested like a common criminal, is now itself illuminated by the one word Peace. I can scarcely imagine a bigger contrast between Jesus' experience there, and that of ours which was very peaceful, though solemn. It's like the contrast between darkness and light.
Matthew 5: 14-16 tells us in several ways that light should not be covered or hidden but allowed to blaze forth. The light in us, which comes from God our creator, brings goodness into the world and glory to God. I recently heard from a friend, who had been out of touch for a long time suffering from depression, thanking me for some advice I had given her years earlier. I had no idea of the effect my words had at the time, but I thank God that I was allowed to bring some light into a very dark time in her life.
To ponder: Who has shed light into your life at times of darkness and despair? Perhaps you could let them know, or simply thank God for them? Who might be looking to you to bring light to them today?
Prayer: Jesus, show us the dark places in which we can make a difference today. Give us your strength and your light to help those who may be struggling. Amen.
Hymn:   Singing the Faith 501, v 2     Help us, O Lord, to live the faith which we proclaim, that all our thoughts and words and deeds may glorify your name.
Bible link:   Matthew 5: 16     In the same way, let your light shine before men, that they may see your good deeds and praise your Father in heaven. (NIV)
These Lent reflections are written to link with the 2017 Easter Offering Dedication service, 'Shine like Stars' which will be used by most circuits of the Methodist Church in Britain during the weeks following Easter. Orders of service and other resources can be found at www.mwib.org.uk