* A Change to the original programme  of on-line discussions about women's lives in the story of Methodism *
Monday 30th November, 2.00pm
'Susanna Wesley: the 18th century Pirate & her Friends'
We are delighted to welcome Rev. Jenny Pathmarajah, minister for St Aubin's Methodist Church, Jersey for our second online discussion 'From Susanna's Kitchen…'
For further information and log-in details, email: talks@epwortholdrectory.org.uk
or visit: www.epwortholdrectory.org.uk/events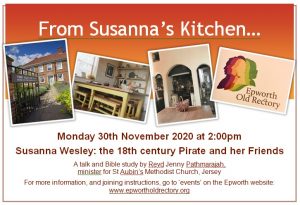 PREVIOUS EVENTS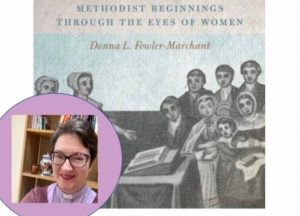 The Methodist Women in the Circle of John Wesley
Note: Due to unforeseen circumstances we have had to postpone our planned discussion with Revd Donna Fowler discussing her new book Mothers in Israel: Methodist beginnings through the eyes of women, which delves into the lives of the women disciples in the circle of John Wesley. Those held in the highest esteem were given the honorary title 'Mother in Israel' and Donna, an American minister now serving in the UK, achnowledges these women as extraordinary disciples and preachers, though sadly not given equal billing to the men around Wesley. This online event will still hopefully take place at a later date.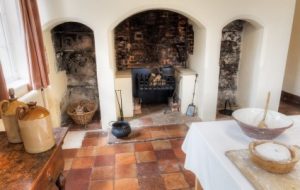 Susannah: A role model for today's Methodist women?
In the first in the series, originally broadcast on Monday 28th September 2020, former Presidents of Conference Revd Michaela Youngson and Revd Barbara Glasson discuss the influence of Susanna Wesley on her family, church and community, and how she remains a role model for Methodist women today.