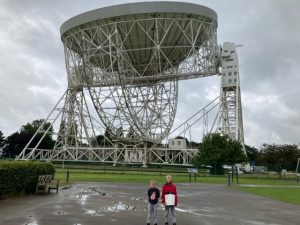 Our two grandsons, aged 10 and 6, came to stay with us during the summer holidays. The first time for eighteen months! We had promised to take them to Jodrell Bank but we awoke to torrential rain. As we were sitting at the breakfast table the rain was thundering down on the conservatory roof and we were wondering whether we should abandon the idea. Suddenly, our youngest grandson announced 'The sound of rain is very satisfying!' We were dumbstruck, but when we had recovered, we thought that he had a point. We were too busy thinking about the effect it was having on our intended outing to appreciate the sound the rain was making. We did go to Jodrell Bank and miraculously the rain stopped and we had a brilliant day listening to all the sounds around us. The boys had a wonderful time, particularly whispering messages to one another across the park using the Whispering Dishes.
Yesterday morning I noticed that our lawn was absolutely covered in cobwebs, accentuated by the dew. There must have been hundreds of spiders tucked away in the grass that we had never noticed before. Are we too busy to notice, to look for the less obvious? What else had I missed?
How often do we stop to look and to listen to the sounds and the things that are happening around us? How much do we miss? Yesterday I had a conversation with Rachel Lampard about 'Walking with Micah'; the Methodist Principles for Social Justice Project, which Rachel is leading. It is about listening to what matters to Methodist people at this time – really listening. Listening to the stories of people in local situations, seeking out conversations at a local level about seeing the injustices around them, what they are doing or would like to do about it and reflecting on what it means for us. Rachel would love to hear these stories.
Irene Hayes, our new Community Officer, is hosting a discussion group on Zoom about 'A Methodist Way of Life'. She invites anyone in MWiB to join her on Monday evenings at 7.00pm for an hour to share stories about how we are trying to live our lives in response to God's love. If you would like to join her, please email her for the Zoom link:  communications@mwib.org.uk.
In the meantime, can I encourage you to keep looking and listening. I am sure you will find God's presence in places and people that you have never noticed before!
Blessings
Ruth