For the month of October, Linda Crossley reflects and offers prayers through hymns.
My starting point for these reflections was a number of hymns that have special meaning and significance for me in my Christian journey.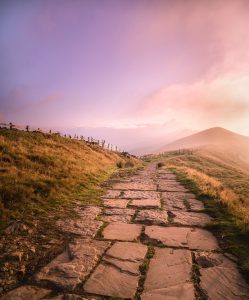 On only our 4th anniversary, at the Methodist Conference of 2015, MWiB was invited to lead Tuesday morning prayers at Conference.  This felt like a valued endorsement of our ongoing contribution to the life of the Methodist Church.  Revd Steve Wild and Dr Jill Barber, the new President and Vice-President of Conference, had a series of 4 postcards of art works, used as a focus for their year in office.  Anne Browse and I were to write prayers prompted by one of these cards, a portrait of Dinah Morris, a fictional character in "Adam Bede" by George Eliot.  The hymn was also chosen for us, StF 662.  I had sung it before, but it became extra special after that time.
Every line consists of a question, a challenge to us in our lives to respond to God's call, to serve even through difficulties, to subdue violence, to speak up for others, to share hospitality and our faith, to campaign for justice.  Even the refrain consists of questions – "Will you walk the path that will cost you much and embrace the pain and sorrow? Will you trust in One who entrusts to you the disciples of tomorrow?"
The whole hymn challenges us to act, speak, pray in a way that MWiB does too, through our many campaigns for justice.  The final refrain turns the questions around positively.
Let us affirm, as that refrain does, that "We will walk the path that will cost us much, and embrace the pain and sorrow.  We will trust in One who entrusts to us the disciples of tomorrow."  Reflect on where you might challenge yourself to go that bit further this week in serving God.
Please click the button to download the complete set of prayers for the month.