27th November 2021
Our world is reliant upon water. Nothing that lives can do so without at least some water. Yet, water for drinking is limited, and becoming more scarce and so threatening long term survival.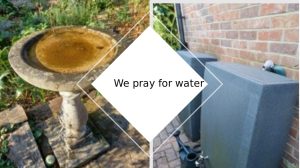 Keep reminding us Lord to be careful how we use it, and not to squander this precious resource. Teach us ways to support your creation and keep the whole inter- connected forms of life healthy.
Lord, as we reflect in the garden and enjoy your creation, we ask your forgiveness for our wastefulness and destruction, whether we have acted consciously or unconsciously.
As we appreciate what we have, remind us that not everyone, or every creature shares the same wealth of nature. Keep our minds on the future health of our planet.
When we look to the future, and the development of different ways to live, keep us all conscious of the ways in which resources are garnered. Keep us mindful that new technologies often demand rare resources from earth's store, and accessing them disturbs the lives of people's nearby with negative outcomes.
'I tell you the truth, anyone who gives you a cup of water in my name because you belong to Christ will certainly not lose his reward.' Mark 9: 41