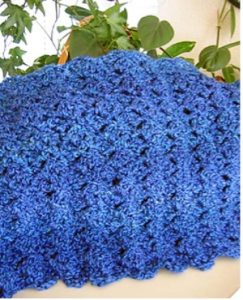 Reflection
I am the recipient of a couple of prayer shawls, kitted for me by those who love and pray for me. One is for blessings and replaces an earlier one that was given to me by the same person for healing, that shawl was passed on to someone who needed it more than me! The second has come from my sister, Janet.  During Lockdown she needed something to keep her busy and focused and knowing about my shawls of healing and blessing, she decided to knit me another one. We used Skype for her to see what the pattern was and it turned out to be in multiples of 3 (A sign of the Trinity perhaps). That began for her a ministry of prayer shawls and to date I think she has knitted well over 20 for various people in various situations. It's a real gift, I am not a knitter, I prefer to make cards, but her skill and prayers have been much appreciated and not only by me.
Wondering where this ministry came from I was surprised how recent it was, the current prayer shawl ministry appears to have been started in Connecticut in 1998 and has been developed to reflect certain situations, for instance pink has been used for someone with breast cancer and blue for healing or blessing –  but each prayer shawl is knitted for a specific person in mind and that is reflected in the thoughts and prayers that are offered as the shawl takes shape.  But prayer shawls have been around a lot longer than 1998 and in the Jewish tradition there are references to prayer shawls (called tallith or tallits) in the Bible.
Although not called prayer shawls as such the Bible records the wearing of prayer cloaks.
Numbers 15 v 37-41 "The Lord said to Moses: Speak to the Israelites and tell them to make fringes on the corners of their garments throughout their generations and to put a blue cord on the fringe at each corner.   You have the fringe so that, when you see it, you will remember all the commandments of the Lord and do them, and not follow the lust of your own heart and your own eyes. So, you shall remember and do all my commandments, and you shall be holy to your God.  I am the Lord your God, who brought you out of the land of Egypt, to be your God: I am the Lord your God."
And in Deuteronomy 22 v 12  "You shall make tassels on the four corners of the cloak with which you cover yourself."  Jewish people continue to use the tallith today to connect to God and wearing one is a sign of obedience to God's commandments and represents a sense of personal space and a feeling that you are wrapped in God's arms.
Why Christians stopped wearing a prayer covering is not really known but maybe because  before Jesus came the prayer shawl was a requirement for God's people as the cloak with tassels was a holy piece signifying belief and love for the one true God. When Jesus died on the cross for us and we were no longer under that law, maybe that requirement was no longer needed?   But a prayer shawl today can remind us of what God did for his chosen people, and what he did when he sent his Son who in love would die for us and that we are enfolded in his love today.
And kitting is of course a gift from God who is the ultimate knitter! "For it was you who formed my inward parts; you knit me together in my mother's womb. I praise you for I am fearfully and wonderfully made. Wonderful are your works; that I know very well.            Psalm 139 13-14
So if you have a prayer shawl or maybe think this is a ministry worth doing, remember that the prayer shawl ministry of today is precious and serves as a reminder that we are carried through life wrapped in the arms of our loving heavenly Father, and by the love and prayers of others. They are given in times of sadness, need and grief, but also to celebrate joyful occasions and blessings  too.
For those who wish to know, the shawls my sister knits has 99 stitches each row made up of 3 knit, 3 pearl, and 300 rows, that's 29,700 stitches per shawl!  She finishes them off with a fringe on each end. She tells me that not every stitch has had a prayer, sometimes she prays over a row, or just when I pick the work up or put it down.  The words she includes with each prayer shawl are:
This was knitted for you with prayers for – health and wellbeing – or joy – or peace and blessings.
Janet's Prayer
Dear God, with you all things are possible. Bless these hands as they attempt to create this shawl.
May they do your bidding and when complete may this shawl give warmth and comfort to (Name) when they wear it. Let it be filled with your love.  Amen
(This reflection comes with thanks to my sister Janet, who also helped with some of the information!)
Hiaku
May our prayers, O Lord
Knit us daily close to you
Our creator Lord.