Introduction
It is a great privilege to be asked to write the 'prayer for the week' for the month of April.  I have decided to use some of my daughter's art work as a starting point for each reflection and I pray that these images and the prayers will be a blessing to you and help you draw closer to Jesus.   Carolyn Lawrence
Artwork © Joanna Campbell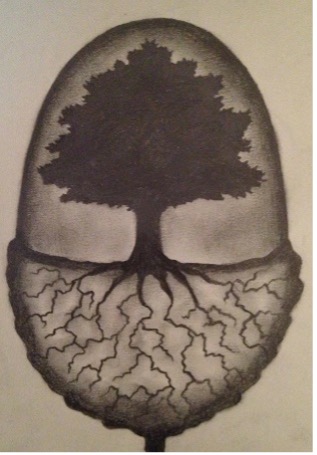 Matthew 13: 31-32
He (Jesus) told them another parable: "The kingdom of heaven is like a mustard seed, which a man took and planted in his field. Though it is the smallest of all seeds, yet when it grows, it is the largest of garden plants and becomes a tree, so that the birds come and perch in its branches.
While on a coastal path walk last year I saw an apple tree growing out of an old mine shaft and it made me reflect that a miner years previously must have thrown down an apple core, never dreaming that the seeds would one day grow into a huge tree reaching up to the light.
It is the same with us when we sow seeds of God's love into our families, communities and nations.  We may think that our kind deed, encouraging word, financial gift, offer of prayer or word of testimony is insignificant but it could have a huge and unforeseen impact on the life of another person just as a tiny seed has the potential to become a huge tree.  Every acorn contains a mighty oak tree.
God has given each of us seed to sow into the lives of others and we need to be obedient to whatever he calls us to say and do, no matter how small or insignificant it may seem to us.  One day we will find out about all the fruit that has been borne from our willingness to serve God, even in small ways.
Reflect
What small thing may God be asking you to do for someone today?
Prayer
Lord Jesus help me to be obedient when you call me to show an act of kindness, to offer an encouraging word or a prayer for someone or to share my own story of what you have done in my life.  Help me remember that even my smallest offering has the potential to bear much fruit for your Kingdom in the lives of others.  Amen.