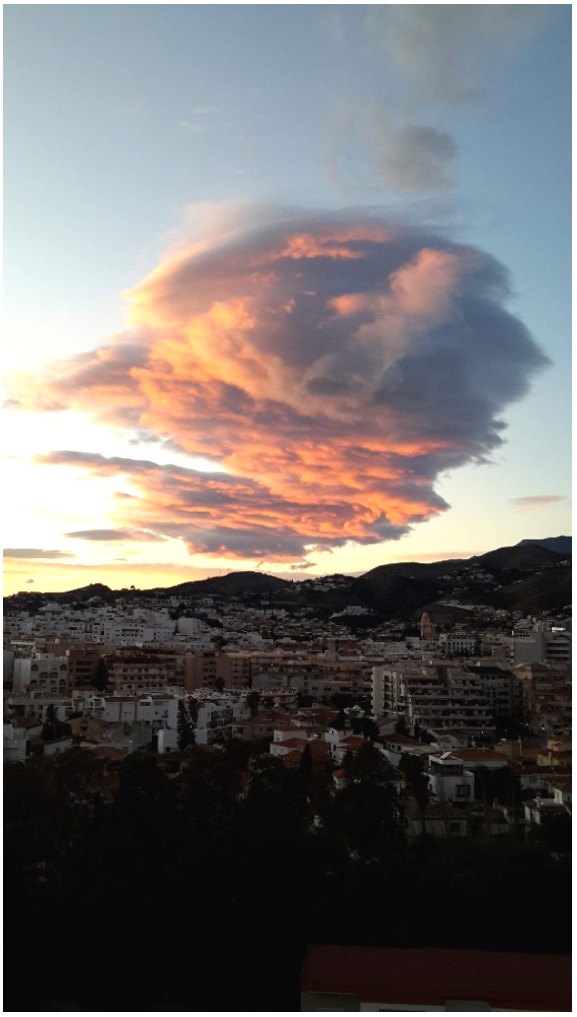 Cloud in Andalusia, Spain ( photo Janice Clark)
The Cloud Appreciation Society (https://cloudappreciationsociety.org/)has this to say
"We've always argued that a moment each day with your head in the clouds has a profound effect on your wellbeing. That's why we send our subscribing members a cloud each day. It arrives as a short daily email. Sometimes it's a photograph of an amazing formation by one of our members, sometimes, a super-short piece of cloud science. We might send an inspiring sky quotation or a detail from a classic piece of cloud art. Each day it's different and takes no longer than 30 seconds to read. "
Having your head in the clouds had a very different feel for the children of Israel.
Exodus 13: 17-18, 20 -22
17  It so happened that after Pharaoh released the people, God didn't lead them by the road through the land of the Philistines, which was the shortest route, for God thought, "If the people encounter war, they'll change their minds and go back to Egypt.
18 So God led the people on the wilderness road, looping around to the Red Sea. The Israelites left Egypt in military formation.
20-22 They moved on from Succoth and then camped at Etham at the edge of the wilderness. God went ahead of them in a Pillar of Cloud during the day to guide them on the way, and at night in a Pillar of Fire to give them light; thus they could travel both day and night. The Pillar of Cloud by day and the Pillar of Fire by night never left the people."
Probably the only Hebrew word I know other than Yahweh, is that of Shekinah. I can remember learning it at school and it has stuck.
The word shekinah is a Hebrew name meaning "dwelling" or "one who dwells." Shekinah refers to the divine presence of God. God's presence as represented in clouds. Although we love to see clear blue skies, we know that at some point in the future clouds will appear. Even though the sky is blue, the constant presence of God never leaves us.
We sometime think of clouds in a negative way
"Green pastures are before me,
which yet I have not seen;
bright skies will soon be o'er me,
where darkest clouds have been;" (S t F no.736 v3)
In the darkest clouds in our lives, God's presence is there.
Reflect on these words
I watch the sunlight shine through the clouds,
warming the earth below.
And at the mid-day life seems to say:
'I feel your brightness near me.'
I watch the sunset fading away,
lighting the clouds with sleep.
And as the evening closes its eyes
I feel your presence near me.
But you are always close to me
following all my ways.
May I be always close to you
following all your ways, Lord.
(John Glynn Reproduced from Singing the Faith Electronic Words Edition, number 469)