David became the second king of Israel, anointed by Samuel.
Reading: 1 Samuel 16: 1 – 13 (David's story goes through to I Kings 2:12)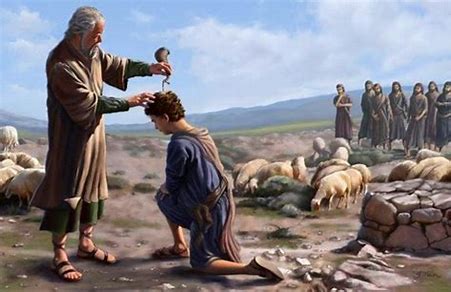 David was the youngest son of Jesse, a shepherd and musician when Samuel identified him as the successor to Saul, and anointed him in front of his family. In his youth he seems to have been successful in many ways. This success made Saul jealous, and he plotted to kill him, but Saul's son Jonathan was David's great friend, and warned him about the plot. David fled and for a time led an outlaw band. He twice had an opportunity to kill Saul, but spared him.
David's story is complicated, yet the Bible account, like that of Saul, does not try to hide or camouflage his humanness. He displays a wide range of emotions, some worthy, while others are less so. His story is honestly told. We hear of deep friendship, battles and conflicts, sadness, marriage, division, rape, astute decisions and finally ensuring succession for his son Solomon. The struggles of his life, and his human failings are openly related to us. He is remembered as a great king of Judah, establishing Jerusalem as the focal point for the tribes of Israel, recapturing and bringing The Ark there, and becoming the founder of the royal line to the Messiah, Jesus.
The Psalms are largely attributed to him, and many of them give an insight into the ups and downs of his life. Psalm 23, The Lord is my shepherd, is probably the most well known. Throughout the Psalms the relationship that David had with God are maintained, and he is open about his feelings, admits his failings and rejoices that God is there for his every need.
To ponder:        How open and honest are we about our ups and downs of life? Does this affect our relationship with God?
Do you think being anointed made a difference to the way in which David trusted God?
David made mistakes and had many challenges in his life, yet through it all he trusted in God. Are there times when we would rather not talk about some aspects of our own lives?
Prayer: Faithful God, we recognise that you are always available to us, that you love us; want to support and guide us day by day. There is an onus on us to contribute to the relationship we have with you. You do not force us. We have to be willing to follow your guidance; we can choose to go our own way. Choosing to follow you is not always an easy option. You challenge us, sometimes sending us into difficult circumstances where the trust we have in you is tested, and sorely needed. Sometimes we fail to follow through. Please forgive our weaknesses and continue to guide us. Like David may our relationship with you be honest, not trying to hide our failings. Amen.