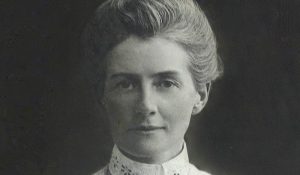 Pioneering Women in Health Care
Week 2
Edith Cavell was  a daughter of the manse from Norfolk who was  inspired to train as a nurse in London and later became the first Matron of the first nursing school in Belgium. During the first world war Edith provided care for soldiers on both sides of the conflict as well as helping 200 allied soldiers escape from occupied Belgium.
This was a high risk activity and it was inevitable that her actions came to the attention of  German officials and she was charged with treason and sentenced to death by firing squad. In her final words she did not speak of revenge or recrimination but must have no bitterness towards anyone.
In Galations 3 28 we read that we are all one in Christ
So we pray for those who take risks for others regardless of gender, race or circumstance often at great personal cost. We pray for prison officers, probation services and the police. We pray for those who volunteer to work as street pastors or in rescue teams.
We pray for those who work to make our communities safe and supportive for those on the edge.