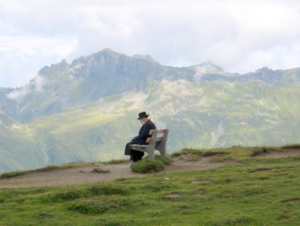 Prayer for the Week: June 10th 2023
Psalm 8
The holiday season has begun and many of us will be travelling to visit places we have never visited before; others will be visiting old, familiar haunts. Whether we visit cities or countryside, we will have time to stop and appreciate the world around us, absorb the beauty and stop to wonder at the awesome world we live in. But, how often in our busy lives do we take the time to praise God, the Creator? Maybe we offer silent prayers or maybe we pray together in a service or fellowship group. There is beauty all around us if we only take the time to notice and the opportunity to give thanks and praise.
We have been fortunate to visit several mountainous countries; to watch the changing light, to see craggy peaks, snow covered summits and deep lush valleys. We have seen majestic waterfalls and rivers, marvelled at the milky way and the Aurora Borealis, our hearts full of praise. Whilst holidaying in Switzerland, we took the cable car up a mountain in Klosters. The views from the summit were spectacular and I recalled the words of the Psalmist 'Lord, Our Lord, how majestic is your name in all the earth'. As we gazed round, we began to hear chanting, and there, sitting on a bench, was a Jewish Rabbi with his Tanakh (Holy Scripture) open, singing aloud his praises to the Creator; voicing what we had felt. It took our breath away.
It is easy to praise God aloud when we are with others, but this Rabbi had the courage to praise God from the mountain top, echoing the words of David, the Psalmist.
Isaac Watts expressed his praise of God, in the words of the hymn  (StF 107):
1.'I sing the almighty power of God,
    That made the mountains rise,
    That spread the flowing seas abroad
    And built the lofty skies.
God's hand is my perpetual guard,
    He guides me with his eye;
    Why should I then forget the Lord,
    Whose love is ever nigh?'
Creator God,
We praise you for the wonders of this world. Help us to see your work in everything and everyone around us so that we may share our appreciation with others, that they too may praise you. Amen