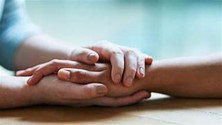 1st July Respect of fellow Humans – 1 Thessalonians 5 vv 12-15
Now we ask you to respect those who work hard among you, who are over you in the Lord and who reprimand you. Hold them in the highest regard in love because of their work. Live in peace with each other and we urge you to warn those who are idle, encourage the timid, help the weak, be patient with everyone. Make sure that nobody pays back wrong for wrong, but always try to be kind to each other and to everyone else.
In our everyday lives we meet people with differing needs and as Christians it is our responsibility to encourage and strengthen, weeping with those who weep and sharing in their concerns. We need to discern the wisdom to know when to pray or to act by trusting in God and learning patience. 1 Corinthians 13 v 7 says "Love always, protects, trusts, hopes and perseveres". When others are challenging in their behaviour we should always show that we care and set an example. God helps us to do this.
Heavenly Father guide each one of us to treat those we meet with courtesy, love and respect. We are all created in Your image, so may we accept with dignity each individual in their actions and show kindness to all Your children. We ask this prayer in the name of Jesus Amen.