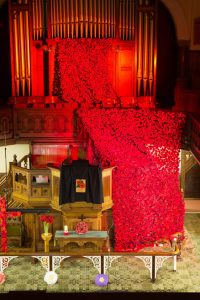 November is the month of Remembering
Week 2: Remembrance Day
Read Revelation 22:1-5
Eden Restored
22 Then the angel showed me the river of the water of life, as clear as crystal, flowing from the throne of God and of the Lamb 2 down the middle of the great street of the city. On each side of the river stood the tree of life, bearing twelve crops of fruit, yielding its fruit every month. And the leaves of the tree are for the healing of the nations. 3 No longer will there be any curse. The throne of God and of the Lamb will be in the city, and his servants will serve him. 4 They will see his face, and his name will be on their foreheads. 5 There will be no more night. They will not need the light of a lamp or the light of the sun, for the Lord God will give them light. And they will reign for ever and ever.
'Poppy Day' (as I am sure we used to call it) sparks differing responses amongst Methodists because Christians have differing attitudes to military combat. In days of yore, war could be seen as glorious; today I think it's commonly seen as horrific. The difference between us is the extent to which people are prepared to accept it as sometimes necessary.
Our choice of poppy marks out our different attitudes to the day. Traditional red is criticised as too warlike; white as not valuing sufficiently the fallen; there are poppies to mark the contribution of people of colour and poppies to mark the sacrifice of service animals – anyone who has seen Warhorse might warm to that. Even a little paper flower has become a marker for human division and dis-ease. It is important that people are allowed to disagree, but also that we learn to disagree well.
In response to the whole poppy fandango, I have largely given up wearing one altogether. Instead I wear the scarf of my mother's fiancé, an RAF who was killed in the Battle of Britain. He was just 23 when he died. On his last home leave he looked at the big photograph of his squadron on his mother's wall and said, 'There's only me and one other chap from that picture still alive'. He told my mother not to go to see him off at the station – they said their goodbyes at home and she never saw him again.
For me, it's the individual stories of sadness and resilience that make me want to keep this day in memory. In a world of dis-ease, where is your heart today?
And so we pray:
Holy God
We pray for your world; for all those places in our news where wars rage, and for those that the news has forgotten.
(Take pause to think of those places most in our news and in our hearts; think also of a conflict pushed out of the news by other tragedies.)
We pray for all those whose lives and lands have been devastated by conflict. We hold before you especially those whose stories are known to us.
(Take pause to think about the people whose stories you have encountered, in person or in the media)
We pray for justice, for every situation where the imbalance between people does not reflect the longings your heart for your world. Help us to maintain a hunger for justice alongside our thirst for peace.
And we pray for peace.
(Take pause to pray deeply for peace, thinking about what peace might cost the people involved in war)
Amen
Consider this question: how does your daily language and action make the world more peaceable? What price do you pay for peace?
Barbara Easton – World Federation President Britain & Ireland Unit