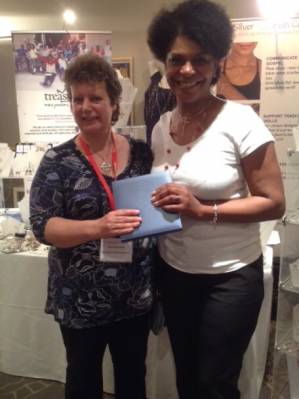 Here is another photo from a tiring but fascinating week at Conference. As I walked past the stalls yesterday I was spotted by Norma of The Silver Fish Company, who made the MWiB presidential cross which I am wearing this week. She wanted a photo, so this is the result.
Today has been busy and full of challenge, as Linda and I led Conference worship this morning, and then as I went out into Southport this afternoon with Angela, Forum rep for Manchester and Stockport and we chatted with people and asked if they had anything we could pray for them at Conference tomorrow. We got to know each other and learned lots in the hour and a half that we were out in the sweltering heat. Many people requested prayer for world peace, for illness and for bereavement.
This evening I joined the World Church Relationships team for supper and a wonderful mixture of stories and songs from around the world. Most of them began by addressing us as 'brothers and sisters in Christ'. There was a warm sense of belonging to a worldwide family of faith as we shared the time together.
Blessings, Anne x