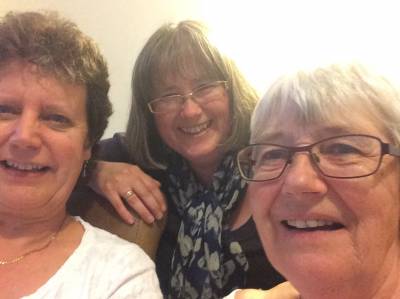 I said yesterday that I would introduce you to some of my friends here in the Southwest. Tonight Rachel (centre) and Hazel (right) came here for supper. There was great hilarity at the end of the evening as we tried to take a selfie that all of us were happy to release for general viewing. This was our best effort!
Rachel is our Plymouth and Exeter District Treasurer, Hazel is on the Tiverton and Wellington Circuit Leadership Team and we are all local preachers in the same Circuit. We usually meet as a group of five, but Ruth and Gill were busy tonight, so this time it was just the three of us. We often come together to develop themed worship for local churches, collaborating as far as possible with individual congregations as we plan and prepare. We share our own stories and pray for each other, which strengthens and supports us personally, too.
Hazel is now writing Prayer for the Week, which you will find on the MWiB website.
If you have time, and a copy of Singing the Faith to hand, take a look at 619: Thanks for friends who keep on loving, finding ways to help us grow…
I thank God from the bottom of my heart for friends like these, and for the way they put up with me! I thank God, too, for all the new friends who have supported me over the past year.
With love, Anne x