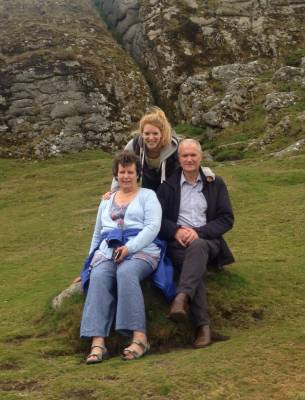 How to blog tonight? What to write about? Which photo to choose, as I have three possibilities!
This morning it was a delight for me to lead worship at Dunkeswell Methodist Church, using the Action for Children resources and also sharing communion with the congregation. Today, unusually, there were children there, too – a three month old boy and a ten year old girl – which changed the dynamic of the service and lifted spirits. Such an opportunity to share how important it is to welcome people of all ages into the life and worship of the church. We shared coffee and squash and biscuits afterwards, passing round the baby, chatting with the ten year old and the ninety-four year old and everyone else in between!
After the service Ken and I headed down to see Sophie, our eldest daughter, who had prepared lunch for us. Another treat for me! This afternoon we walked up onto Haytor on the edge of Dartmoor, just three miles from Sophie's new home. I have finally chosen a rather windswept family portrait for tonight's blog photo!
I will close with a portion of my favourite blessing:
The Lord bless you and keep you, tonight and always.
Anne x