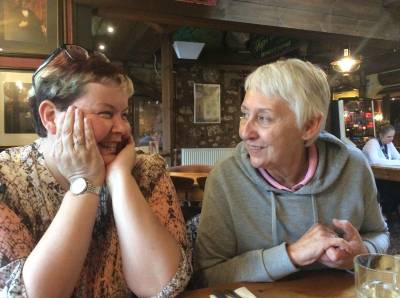 Today it has rained and rained and rained here in Devon! A ray of sunshine at lunchtime was the chance to spend time with these two lovely women. Jackie Bellfield, our speaker at the MWiB Swanwick weekend last April, and her friend, Jill, were heading back to Warrington after a holiday in North Devon and we had arranged to have lunch together. We ate, chatted, laughed and shared stories.
I love this photo, which I took as we were in conversation. There is another photo which you might have preferred, a selfie taken on their recent visit to a gnome reserve, with the pair of them in gnome hats. Jackie assures me that she has emailed it to me, but unfortunately it has not come through! I will leave that picture to your imaginations!
I hope that there may have been bright moments in your day today, despite the rain.