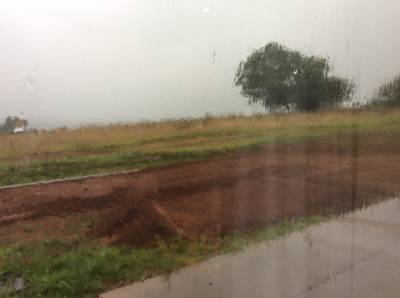 I finished yesterday's blog with words from the Psalms, that wonderful collection of writings which express a whole range of human emotions, and not only positive!
As I have tried to decide what to blog tonight I have found myself uttering those dreadful words, "I really can't be bothered"! I don't know how honest you want your MWiB President to be, but I suspect I am not the only one who gets those moments when you really don't want to make the effort to do what needs to be done!
Some of you, of course, will tell me that I don't need to write the blog every day, and of course there will be days when that is the case. Tonight, however, here is an honest blog, with an equally dull view from our window as the rain keeps falling!
The day has been long, with an early start to lead prayers up on GB camp; a very lovely 'coffee meeting' with an ex-colleague and her husband to hear all about their recent trip with 10 school students to China; a visit to the dentist (and an unexpected filling); a cup of tea and a catch-up with another friend. So I do have things to write about, and as I write them, sticking to the discipline of this daily blogging, I am actually feeling more positive!
Counting blessings! I wonder how your day has been?
With love from rainy Devon, Anne x