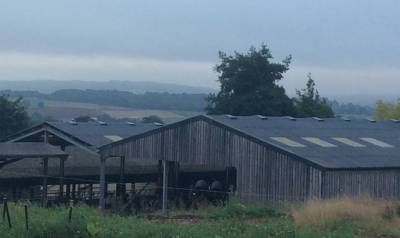 Dare I be honest and say it's another of those "don't really feel like blogging today" days? A long, grey day, with the normally stunning view obscured by cloud since this morning. I have spent too long inside and with my own company, I think!
One of the things I looked forward to when I finished work was not having 'things to do' running through my head as soon as I woke up in the morning, or worse still waking me in the early hours, or even invading my dreams. You will probably not be surprised to know that it still happens, only now it is not about child protection concerns or Ofsted, but MWiB deadlines and commitments! So today has been a day spent largely at the computer, often one step forward and two steps back, with our slow and unreliable Internet connection here. Have I been very slightly jealous of those members of the exec who have been in France or on pilgrimage? Surely not, I hear you cry!
I wonder how your day has been? I have just been outside to take this evening's photo, and even just stepping out into the field was somehow therapeutic. Perhaps I should get out more!
Lord God, when I am tempted to throw the proverbial 'pity party', remind me to keep things in perspective. Help me instead to count and be thankful for all the blessings I enjoy, and mindful of those who would give anything for a roof over their heads tonight. We pray especially for those far from their homeland and perhaps separated from family, and for those who seek to help them. Amen.