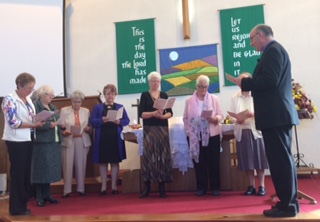 On Tuesday I drove up to Weston-super-Mare to speak to the Ladies' Fellowship at Milton Methodist Church. Today, after a glorious train journey along the coast through Dawlish and Teignmouth, a friend and I joined the Plymouth and Exeter MWIB District Day at The Avenue Church in Newton Abbot. The morning began with coffee, of course, and then the induction of Sharon Canning as the new President. The district officers were also affirmed in their roles and we shared in communion together, led by our Chair of District, Rev Graham Thompson.
Rev John Carne preached and reminded us that if we do not use our gifts we risk losing them. He illustrated this by showing us his banjo ukulele, which his wife had threatened to get rid of if he did not learn to play it. They are now both learning to play!
John also challenged us with God's question to Moses, when the latter was trying to wriggle out of the task of going to Pharaoh to bring the Israelites out of Egypt. In Exodus 4, when Moses is protesting, God asks him, "What is that in your hand?" Moses replies, "A staff". God goes on to demonstrate how he will work through Moses and what he has to offer, including his shepherd's crook. Was this perhaps the same stick, John wondered, with which Moses might have killed the Egyptian, before burying his body in the sand and fleeing to Midian?
An interesting thought to ponder – can God really use the experiences of our past life, the negative as well as the positive, as we respond to his call to serve him in the present?