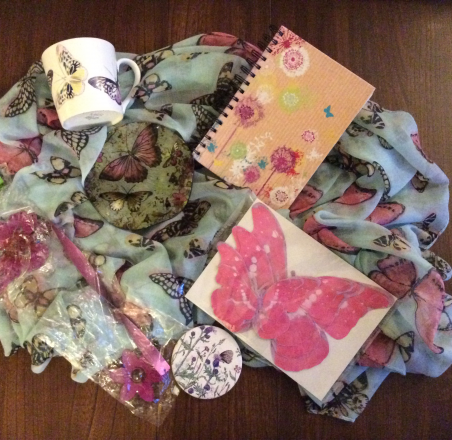 Yesterday I showed you the new butterfly card which MWiB has produced.  You will be familiar with our logo, a butterfly made up of the letters MWiB.  Butterflies are still very much in fashion generally at the moment and many of us have a plethora of butterfly-themed items in our homes.  Many will be personal and for keeping, but others may be unused and lurking in cupboards and drawers.
Let me come to the point!  We are collecting 'Tenners for Texas' to support women in other parts of the world who might otherwise be unable to join the World Assembly in Houston this summer.  Alison Judd has come up with a novel idea for raising some of these funds, and she writes:
Bring and buy a butterfly!
Those attending the Swanwick weekend this year are invited to bring and donate an item for sale that has a butterfly image on it, and buy one to take away. Items could vary: brooch, ear-rings, coffee mug, plate, greetings card, picture in a frame, fridge magnet, key ring, paper napkins, garden ornament – the possibilities are almost endless. The item could also be home-made – cross stich, knitted or embroidery. This could even be replicated around the Connexion in local groups.  The more money we raise for the World Federation and Houston, the better! Cheques can be made out to MWiB and sent clearly marked as  'Tenners for Texas' to Finance Officer, PO Box 9298, Loughborough, LE11 9FY.
 I had fun gathering the items for this rather busy butterfly photo.  Not all of these things will be brought for the stall, as some are treasured gifts which I shall be keeping.  Those of you who enjoy a challenge may like to see how many butterflies you can count in the photo!  Or you might simply find a butterfly to bring to the Swanwick weekend or to a local event!