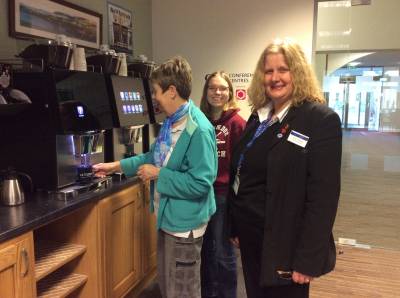 Tonight I am back home in Devon, after three days away in Derbyshire.  This photo was taken on Thursday, when Chris, Hannah and I went to The Hayes Conference Centre at Swanwick to plan for our MWiB weekend in April.  Julie gave us time and advice as we checked out facilities and talked through some of the finer details of the event.
From Swanwick Chris kindly drove me on to Cliff College, where I have spent two very thoughtful days with a representative group of women, considering our role as leaders at various levels within the Methodist Church.  We were ably and graciously facilitated and led and looked after and I have returned with a fresh sense of hope and vision.
Tomorrow morning I shall lead worship at Wellington Methodist Church and look forward to being with the congregation there – out of Devon again and crossing the border into Somerset!