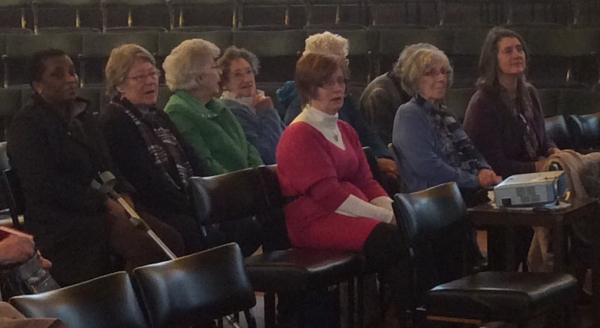 I would probably entitle this photo something like 'Waiting for the film to begin"!  I snapped it as women were assembling in Walsall yesterday for the Wolverhampton and Shrewsbury MWiB District Day.  Probably wondering what the day would hold…
As I look back I am grateful for the many conversations which followed with many of these women, over lunch and tea, as we shared our stories.  I wonder what their day has held for them today?
Today I have been back home in Devon, preparing to set off to Leeds tomorrow morning for the MWiB Connexional Forum, and I think of the other 39 women preparing to come away, too.  Please pray for us in all the business of the weekend and especially as we seek God's way forward for the future leadership of the movement.  May we keep our aim, 'to know Christ and to make him known', at the very centre of all we seek to do and to be.