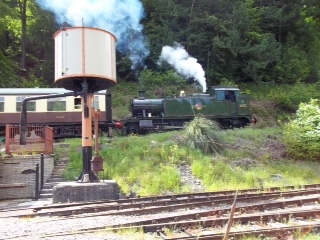 Is a very precious thing;
Especially when shared with friends
Who allow time and space
To travel gently,
To savour and to amble.
So often we feel we must rush
To fit everything in.
We mustn't miss a moment
Or an opportunity.
But, when doing that we can miss so much.
We often forget to savour and to amble.
These days we smile when we see the
Old steam trains.
Twenty five miles an hour is all
They are permitted to do!
So slow.
The hedges and ditches, the cattle and sheep,
No longer fly past,
We are given the opportunity
For our gaze to linger.
Our memories, those of us old enough,
Flood with childhood holidays.
The smell of steam, the flecks in eyes,
The comforting noise,
And O the excitement.
We savour and recall them.
But, the ambling over, we return
Renewed and refreshed
To meet the needs of the modern world:
The hurrying and scurrying.
We give you thanks Lord,
For friendships which help us to appreciate
The diversity and the wonder
Which surrounds us.
Any one for a ride up the line?
Yes, Lord, wait for us,
We're coming with you!
Holy Spirit bring us joy in our friendships.
Amen. Hazel Parsons
Reading: Ecclesiastes 3:9-15
SthF: 477 Teach me to dance to the beat of your heart