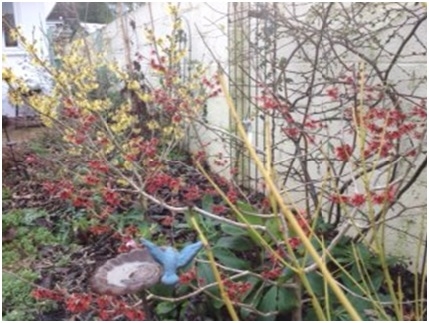 O, the joy of the unfurling witch hazel
On a winter's day.
Snow, frost, ice,
even this year's constant rain,
Spoil not its gorgeous blossom.
The sweet smell attracts the early insects
And me!
Lord, seldom is there nothing to bring
A smile, a shaft of happiness
Into the wintry times of life.
Seldom is there no kindly smile,
Gentle touch,
Warm glance.
Seldom.
But, for some, it seems that the winter
Lies long and drear,
Stark in their minds.
For some, Loving Father,
The days lie heavy and the shaft of light
Remains unseen,
Unrecognised.
The witch hazel and the snowdrop
Speak of ways in which winter
Is pierced with hope,
Of ways in which that hope
Can not be destroyed:
But fragrant, clear and clean
Shines, even through
The pouring rain.
Bring us,
Loving God,
To shine the Light of Jesus
In places and hearts where life seems
Forlorn,
For his sake we pray.
Amen. Hazel Parsons
Reading: Mark 2:1-12
SthF: 97 When all your mercies, O my God