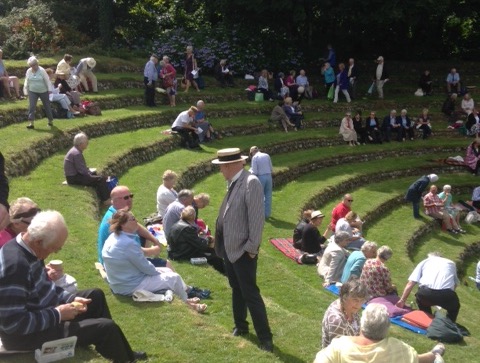 Today I have been researching information about Gwennap Pit, following my visit there yesterday. On the Methodist Heritage website I found this information:
"Depression in ground, possibly created by mining activities, where John Wesley preached on 18 occasions from 1762 to 1789. Remodelled in memory of Wesley into today's terraced 'amphitheatre' in 1806.
Concrete and mosaic interpretation panels were added near the entrance in 1983–5. Adjoining Busveal Chapel (1836) has pictures, exhibition panels and visitor centre. Part of the Cornwall and West Devon World Heritage Site."
Yesterday afternoon we were generously hosted by local Methodists and cream teas were served and enjoyed before the service. For me the highlights of the day were the worship, the preaching and the fellowship, including shared conversations on our coach journey to and from the site.
Today twelve women have travelled to Durham to set out together on another MWiB pilgrimage to Lindisfarne – I hope to be able to share pictures of their progress here over the coming week.
My photo today shows Revd Steve Wild (in his trademark straw boater) greeting members of his district who had gathered yesterday at Gwennap Pit to welcome him home to Cornwall.