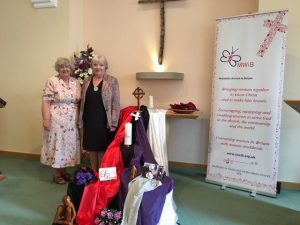 Our recent District Day was held at Benfleet Methodist Church and included the induction of our new President, Linda King.
Our morning session began with MWiB updates and news – from our Forum Rep, Esther Hume; our Vice President, Sandra Goodwin who explained her new role and spoke about her forthcoming visit to Bolivia; Ruth Watkins told us about the Paul Field/Garth Hewitt concert; and outgoing President, Jenny Broadbridge updated us about her District project – hft (Home Farm Trust) whose residential home in our District we have support by raising funds for their new sensory garden.
Worship was led by Revd Tony Windsor whose reflection was based on one of Linda's favourite bible passages – Ruth ch 1 v16. Our new District project is to be the Arab Orthodox Society in East Jerusalem which was visited by the MWiB pilgrims to the Holy Land last November. Susie King introduced the project as she had been part of the pilgrimage, and was enthusiastic about the work of AOS, run by Palestinian Christian women to empower Palestinian women. [See Linda Crossley's report in the Methodist Recorder of 15 April]
The afternoon session was led by Southend and Leigh on Sea Circuit Superintendent minister, Revd Peter Moorhouse and he introduced a fellow circuit minister, Revd Hannah Bucke, whose presentation about her innovative and inspirational town centre ministry in Southend was fascinating and a revelation to those present.
We all agreed we had had a very good and varied day! A long journey across the District for many to travel to Benfleet; Linda appreciated greatly the love and support she received.