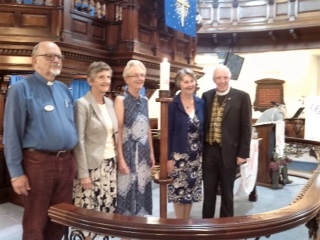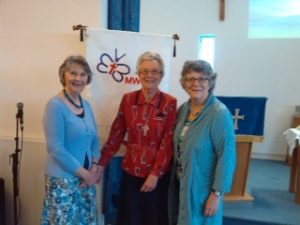 MWiB in Cornwall continues to thrive with many and varied activities taking place in most circuits, meeting for fellowship, food and raising money. We are fortunate that our Chairman, Rev. Steve Wild is always so supportive of MWiB, so much so that when he was President last year, he invited the Executive committee to afternoon tea to say thank you for the work we carry out in the District. It was a very special time for us all.
At the District Committee held twice a year and usually Chaired by Rev. Steve, each circuit gives a report of what is happening in their area. Picking out things of special interest, Camborne and Redruth coffee mornings with stalls to raise money to transport goods to Moldova. Falmouth and Gwennap held a cream tea at Gwennap Pit, a part of the Cornwall and West Devon World Heritage site where John Wesley preached many times. Truro hosted the service of induction of the new District President. Mrs. Jenny Skinnard, who has chosen the Farming Community Network as her chosen charity for 2 years. At the 2 money raising events for MWiB they had an Autumn mini market and a Shrove Tuesday soup and sweet lunch with an activity afternoon, which always proves popular with the 80-100 people attending. St. Austell held a day of reflection as did other circuits including Liskeard and Looe who returned to Buckfast Abbey in Devon for theirs. They also had a garden party where Dr. Andy Dye, a returned mission partner and representative of 'All We Can' was the speaker. In Camelford, there is a very active group meeting fortnightly with speakers and visits arranged and 'Nimble Fingers' meeting on the alternate weeks which brings in many from outside the worshipping community. Saltash not only has coffee mornings but a curry night to include a speaker. Callington and Gunnislake put a new slant on safari suppers by visiting 4 different chapels for the 3 course meal and coffee, raising nearly £500 in the process. The ladies group on the Isles of Scilly continue to meet and are able to send a representative to some of the District meetings.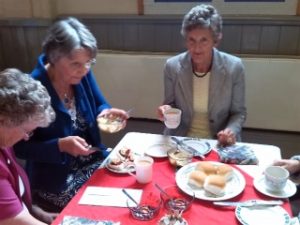 Most of the Circuit Easter Offering services have moved to Sunday, with many of them incorporating a cream tea or supper. They are generally very well attended and this year over £ 5,000 was raised in 4 circuits
At our District Day in May we welcomed back Mrs. Margaret Smith, a past President of Network, who led a wonderful day on 'Hospitality as a gift of the Spirit.'
Every year we have a 3 day conference in November at Treloyhan Manor, St. Ives, continuing to have 2 conferences back-to-back because so many want to attend. This year, we welcome Mrs. Linda Crossley back to Cornwall to lead the sessions, with Revs. Mark Dunn-Wilson and Jane Willcock leading the Bible study. With over 80 booked this year, it promises to be another good time of fellowship, food and money raising.