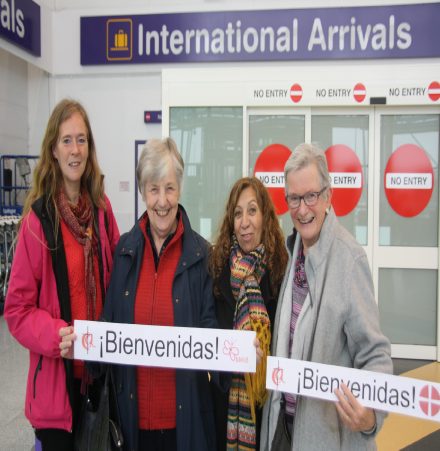 At Cumbria MWiB Conference in November, titled "Walking Together with Christ in Each Other's Shoes",   we welcomed two guests from Argentina, Silvia Mutio, Coordinator for Methodist Women and Pastor Maria Esther Anderson, Chaplain to Methodist Women.
The picture shows Maria Esther and Silvia with Joan Wager and Jill Morris, members of the Cumbria-Argentina Link.
We shared together, with the help of our translators, Mary Rollin and Catherine Porter, in "Standing in each other's shoes", "God is enough" and "The Kingdom of God is like a blanket". Thus we forged stronger links with the 15 year partnership between Cumbria and Argentinian Methodists and had much to learn from Sylvia and Esther. This was indeed a highlight of 2015.
Four super meetings followed in 2016, held in various locations around our large county to enable and encourage attendance, so engaging with more women:- CAP at Wigton; "A Day of Prayer and Thought", a new venture, in the lovely village of Orton; a super but very wet Garden Party at our President's home near Hadrian's Wall, adding to a total of over £2,000 towards the MWiB Dalit Fund; then "Tea and Togo" at Penrith, with Mission Partner Sheila Holland and her two delightful teenage daughters.
What a great year, with no successor to Margaret Newrick our President and learning from our Argentinian sisters, we are to trial a Co-ordinating/Leadership Team, with existing and co-opted members sharing roles, expertise and leadership. Our special October Service will see the commissioning of this new Team by our District Chair, Rev Teal. We pray God's blessing on the future of MWiB in Cumbria.