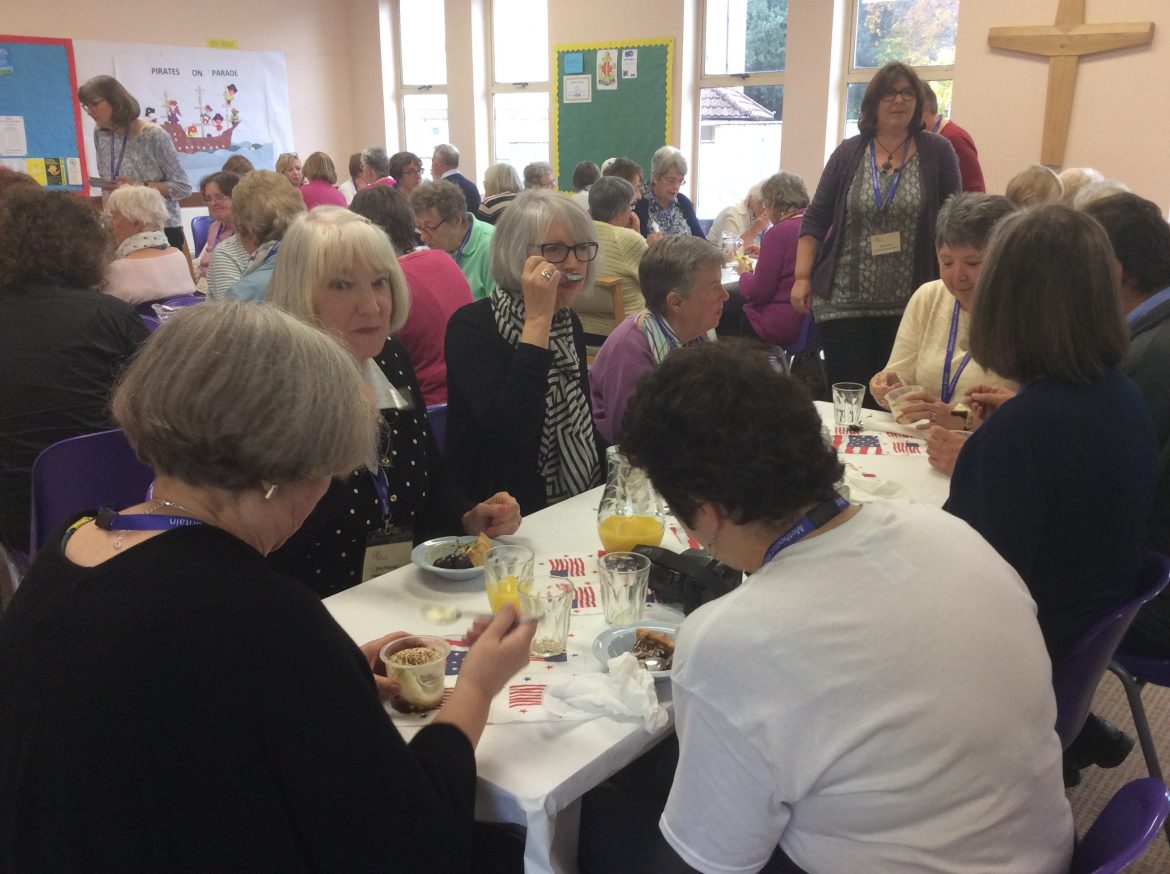 One more photo from last Saturday at the World Federation Day, chosen because I know people enjoy trying to spot their friends, or themselves, in the picture! As I look carefully I can pick out friends from many different Districts across the Connexion; from Cornwall to Cumbria; from Northampton to Southampton; from East Anglia to the Isle of Man; from Plymouth and Exeter to Chester and Stoke and Wolverhampton and Shrewsbury.
Of course many others were unable to travel to Taunton last Saturday, but it has been good to know of Districts where there have been opportunities to hear reports of the World Assembly, as those who were able to be in Texas have shared their stories back at home.
This weekend is again different for me, as I prepare to go on annual retreat with the other members of the MWiB Executive. This year we are staying at Mill House, a beautiful old Devon longhouse just five minutes away from my home. So today I have no train to catch or long journey to undertake. Carolyn will not be getting up at the crack of dawn to make her way through the South Devon country lanes to the station. Sandra has stayed on in the neighbouring county of Somerset since last weekend, so she will just need to cross the border into Devon this afternoon. Gillian, on the other hand, will be travelling down from Lancashire, and Jude from Cumbria. We will gather at Mill House this evening for supper, and tomorrow Hazel Parsons will lead us through our day of quiet and reflection.
We are also grateful to Hazel for contributing Prayer for the Week on this website, a resource which so many people across the Connexion use and value. It is no mean feat, at the invitation of the MWiB President, to write a prayer for every week over two years, so that there is always something new to inspire individuals and groups. Jackie Smith, also in this photo, served us in the same way before Hazel. Thank you both!
Please pray for Hazel as she leads us, and for the Exec as we take time out to listen and reflect and seek God in our own lives and in the roles to which we have been called in MWiB. I return again and again to the definition of spirituality with which we worked recently at the consultation at Cliff College: 'the lived experience of God, present in our world and active in our lives'. Whether, like us, you are able to 'retreat' for a while this weekend, or are caught up in travelling and activity, I pray that you might find God in some definable way, wherever you find yourself.