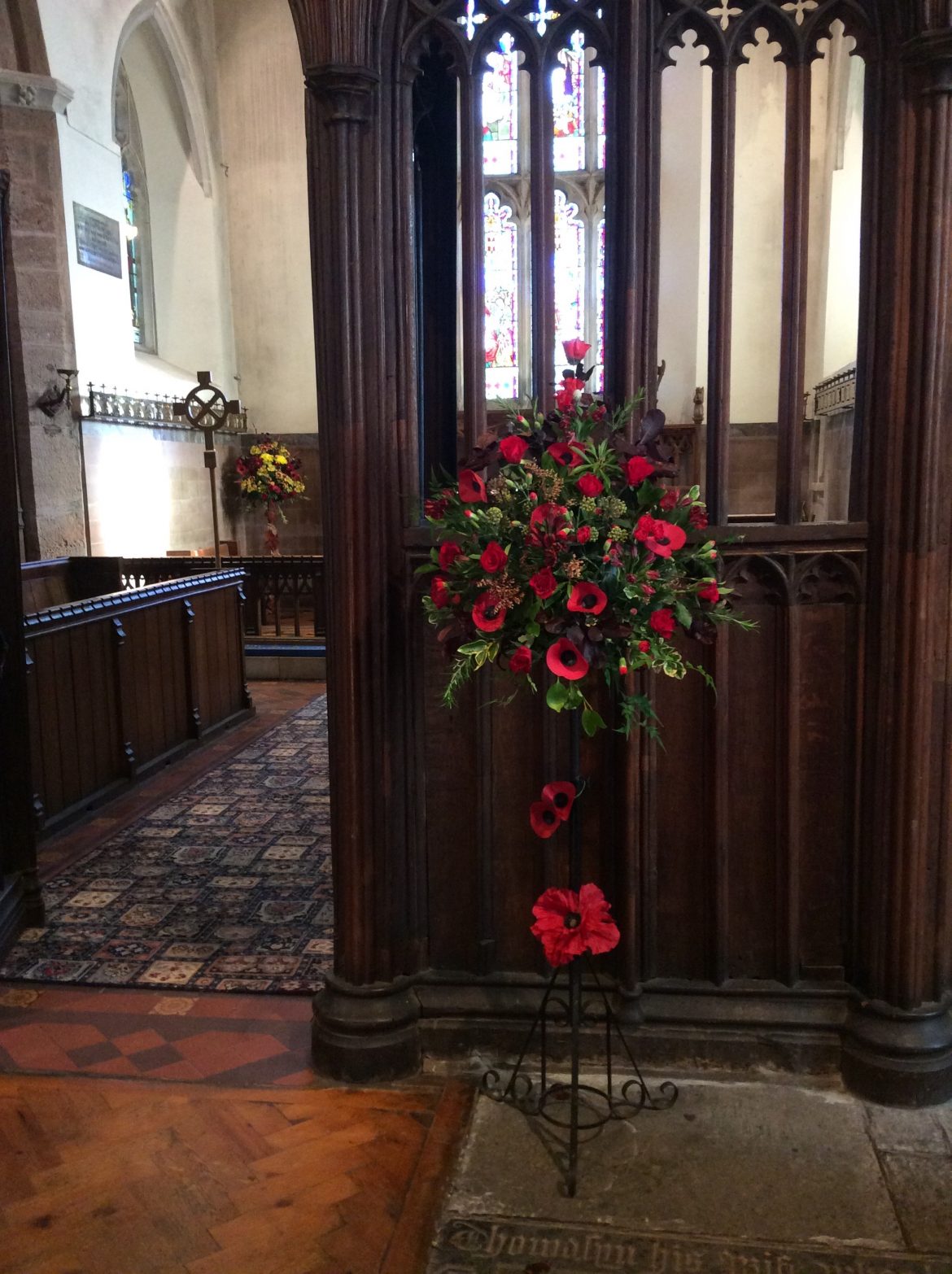 A beautiful autumn afternoon again here in Devon. This morning our village community joined together, as did numerous communities across the country, to remember. This was the flower arrangement at the front of our local Anglian church, a focal point as we came together for what is one of the hardest annual services to lead. Two of my friends were leading worship and acts of remembrance this morning in different villages, and over the last week we have exchanged thoughts and ideas as they have struggled to put together services which would be meaningful, and helpful, and which would have integrity.
Of course in many cases there will be a liturgy to follow, set hymns to be sung, familiar readings to be read and the laying of wreaths and tributes. Some of the young people of the village were there, from our churches and from the local Scout group. It felt important that we came together as community, our congregation including some whose lives have been directly affected by the impact of war.
Tomorrow I head to Sidholme in Sidmouth to lead the Plymouth and Exeter MWiB residential event from Tuesday to Thursday. I shall again take my theme of 'Story and Song', sharing some of my own and other people's stories from here, from Germany, from Greece. Stories of ordinary people whose lives intertwine with the lives of others and make up a rich tapestry.
Each one of us has a story, and sometimes it can help others when we share that story, whether or not it has a 'happily ever after' ending. For many of us, the saving grace in many of our stories has been an awareness that God has been with us and sustained us through joys and sorrows, light and darkness, hope and despair.
As I look at the red poppies of remembrance I always think of the verse of a favourite hymn, penned by George Matheson, who went blind at the age of 20 and whose engagement was broken off as a result. His sister looked after him until 1882, when she herself fell in love and prepared for marriage. On the eve of her wedding, facing life on his own, Matheson was able to write the hymn which includes these words:
O Cross that liftest up my head,
I dare not ask to fly from thee;
I lay in dust life's glory dead,
And from the ground there blossoms red
Life that shall endless be.