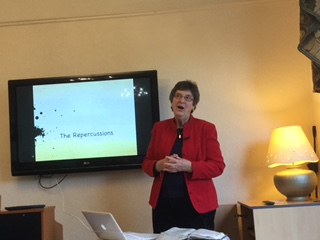 Cumbria MWiB – Together at Thornleigh Christian Hotel, Grange-over-Sands.
A warm and ever so friendly "Welcome" greeted the 47 women who travelled the length and breadth of Cumbria to be part of 'Together at Thornleigh' this November. A true feast was in store for us in every way, not least the cuisine!
Jude Simms took us to Houston, Texas and gave us highlights from the 13th World Assembly of the World Federation of Methodist and Uniting Church Women, of which MWiB is the British Unit.
Angela Mills, a retired lecturer (Capernwray Bible College) explored the book of Ruth for us under the title, 'Against the Grain'. How much did we previously know about this short Old Testament book? In her amusing way, Angie gave us such a full picture, unpacking the details and the significance in the history of God's story and of our Christian faith, all under five headings: The Return, The Redeemer, The Reaction, The Response and The Repercussions.
Kendal Salvation Army brass ensemble entertained us with delightful muted sounds and poetry. "A time to choose" gave everyone the opportunity to pray or be creative in various ways. Revd Jo Rand from Grange brought our shared time to a close with a reflective communion service.
Sylvia Hall
November 2016