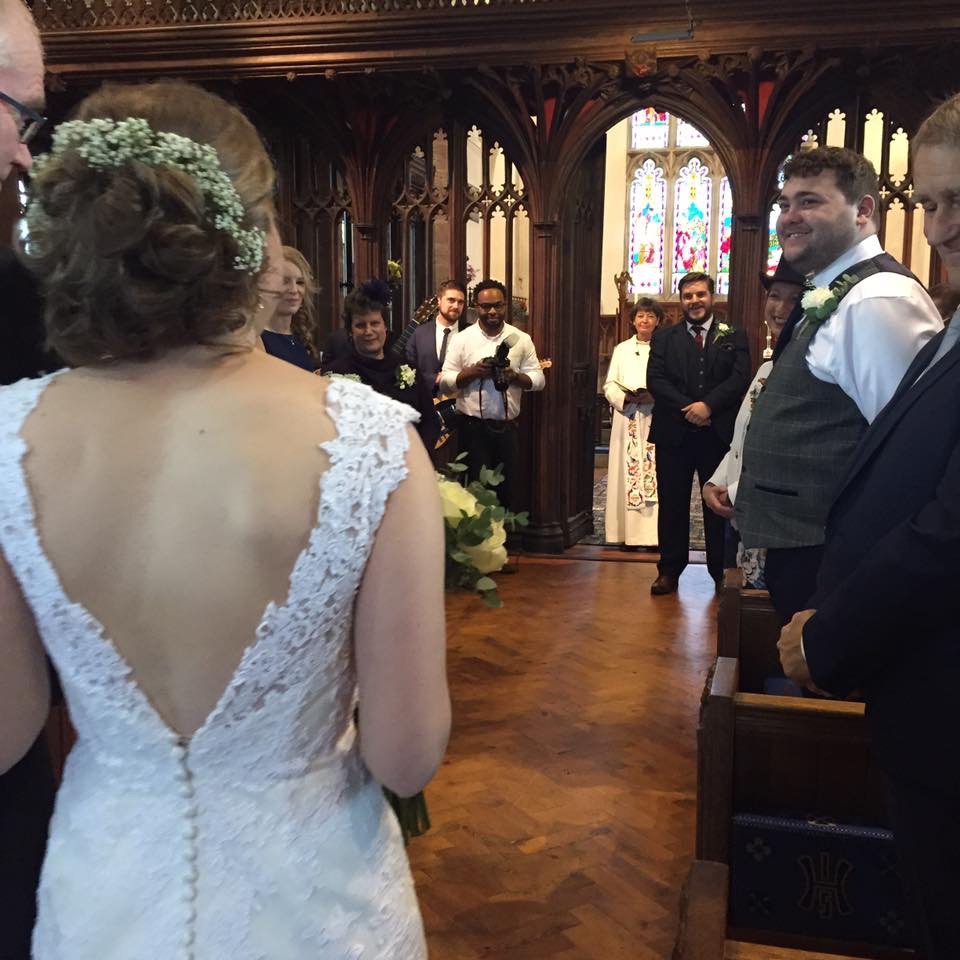 I wrote a little about our daughter Katie's wedding in my blog on Friday. Since then we have celebrated Christmas Eve and Christmas Day with the remainder of the family here, with midnight communion in the same church on Saturday night, and worship with our church family in the Methodist church in the village yesterday morning. Katie and George have been enjoying a rather different Christmas on their honeymoon in The Maldives. We shared a few minutes of precious FaceTime with them yesterday afternoon.
As I said on Friday, I am relying on photos taken by others to retell the story of the wedding day. I love this one. It shows Katie, on Ken's arm, as she walks down the aisle to a piece of music written specially for her by George. If you look carefully you can pick out many of us, expectant for her arrival. Let me introduce some of the wedding guests to you, from left to right.
First, Katie's sister, Sophie, who played a major part in the preparation and smooth running of the day; next, the mother of the bride, very glad that we had rehearsed this entrance (three times!) the previous evening, so that I was at least a little prepared for the overwhelming emotion of the moment; then a member of the band, who had travelled down from London to lead our exuberant worship; the photographer, who will furnish us with lasting memories of the moments which were so fleeting on the big day itself; Sue, our local vicar, who led the ceremony with her characteristic smile and warmth; George, the groom, whose face tells its own story.
A picture of a journey. A journey down a church aisle. A journey which George and Katie will travel together, as they embark on the adventure of married life. As we each negotiate our own life's journey today, I pray that we will recognise that we do not travel alone, but that God walks alongside us in Jesus – our God, contracted to a span, incomprehensibly made man.
With love and every blessing on this Boxing Day.
Anne x