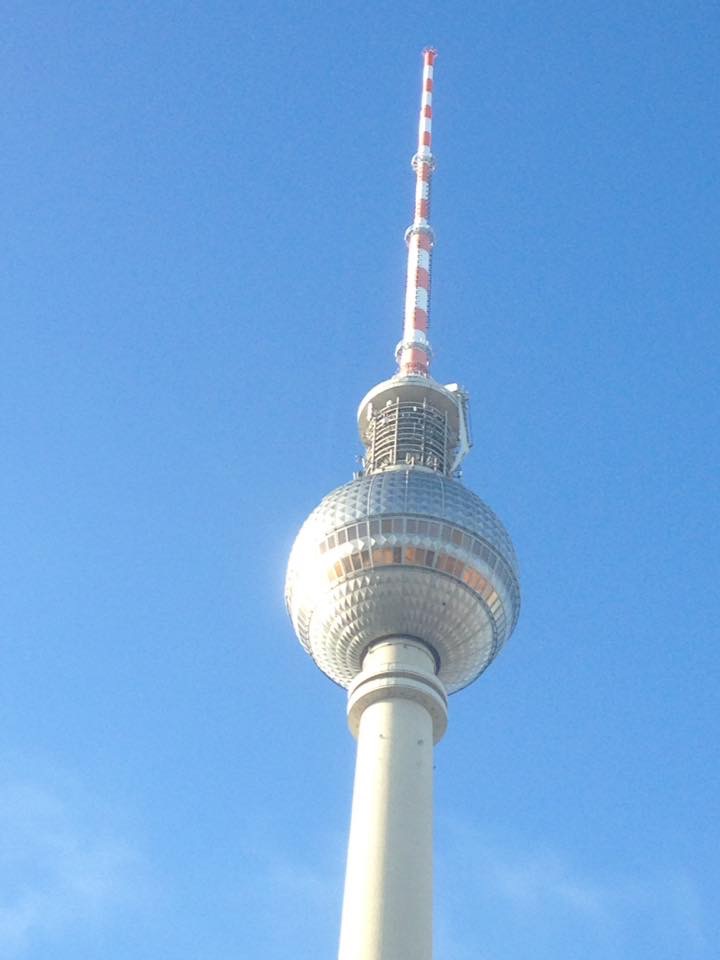 Since I posted the last blog on Sunday afternoon, Pam and I have been busy visiting German Christians in all sorts of settings. On Sunday afternoon we managed a walk around the Charlottenburg Castle before joining the international service at the Methodist Church nearby. We were warmly welcomed to the service and stayed long after worship had ended, talking with members of this diverse and fascinating congregation in the little café which is part of the outreach of the church.
On Monday we spent the morning visiting parts of Berlin, many of which have changed since each of us was here in the past. The photo, however, is of the famous TV tower, a longstanding landmark of the former East Berlin skyline. I remember it from a visit here in the 1970s, when people pointed out how the sun caught it and a silver cross shone out from its orb. We did not have time to go up to the revolving restaurant, but made our way instead to the new Memorial to the Murdered Jews of Europe, an installation of 2711 concrete blocks commemorating these lost lives. Although the information centre was not open we still gained a sense of the enormity and horror of the holocaust as we walked deep into the snow covered concrete maze. It was not surprising that people had written words into the snow which covered the blocks. Words such as love, peace, God.
At the Brandenburg Gate we discovered a Room of Silence, a non-denominational room opened in 1994. It is modelled on a similar room commissioned in the United Nations building in New York in 1954 and which is still in use today. The prayer of the United Nations runs thus:
Oh Lord, our planet Earth is only a small star in space. It is our duty to transform it into a planet whose creatures are no longer tormented by war, hunger and fear, no longer senselessly divided by race, colour and ideology. Give us courage and strength to begin this task today, so that our children and children's children shall one day carry the name of man with pride.
Yesterday afternoon we visited the Kindertreff Delbrücke in Neukölln. Here we witnessed the principle of this prayer acted out in the hospitality extended to the young people who make their way to this Methodist Church building several times a week after school, for homework support, games, food and friendship. Many are from families with a 'migration background' and in receipt of unemployment benefits. Although most of the children spoke German, we learned that the team which runs this drop-in centre offers discussions in English, French, Turkish, Arabic and Polish and sometimes Serbian.
We were warmly received by adults and young people alike and spent three hours talking, playing games and helping with homework, especially English! The young people were keen to talk with us and to ask us about ourselves and also to share their stories with us. After the session was over we toured the church building, which now has a regular congregation of about twenty worshippers on a Sunday. It is doubtless a challenge to them to allow their premises to be used in this way by the Kindertreff, but what a wonderful example of stewardship.
We shared supper together with Ann-Christin and a member of the church and talked over what we had experienced. We had seen the love of Christ, offered with no strings attached, to young people for whom the Kindertreff becomes a second home. Indeed for some girls of Arabic background, the Girls' Club at the Kindertreff is the only place where they are allowed to go with their parents' permission.
This afternoon, Wednesday, we will visit the Lindencafé here at the church in Wittenau. More of that tomorrow, so long as I can find time to write and post the blog! Bis dann, auf Wiedersehen!
Mit vielen lieben Grüßen!
Anne