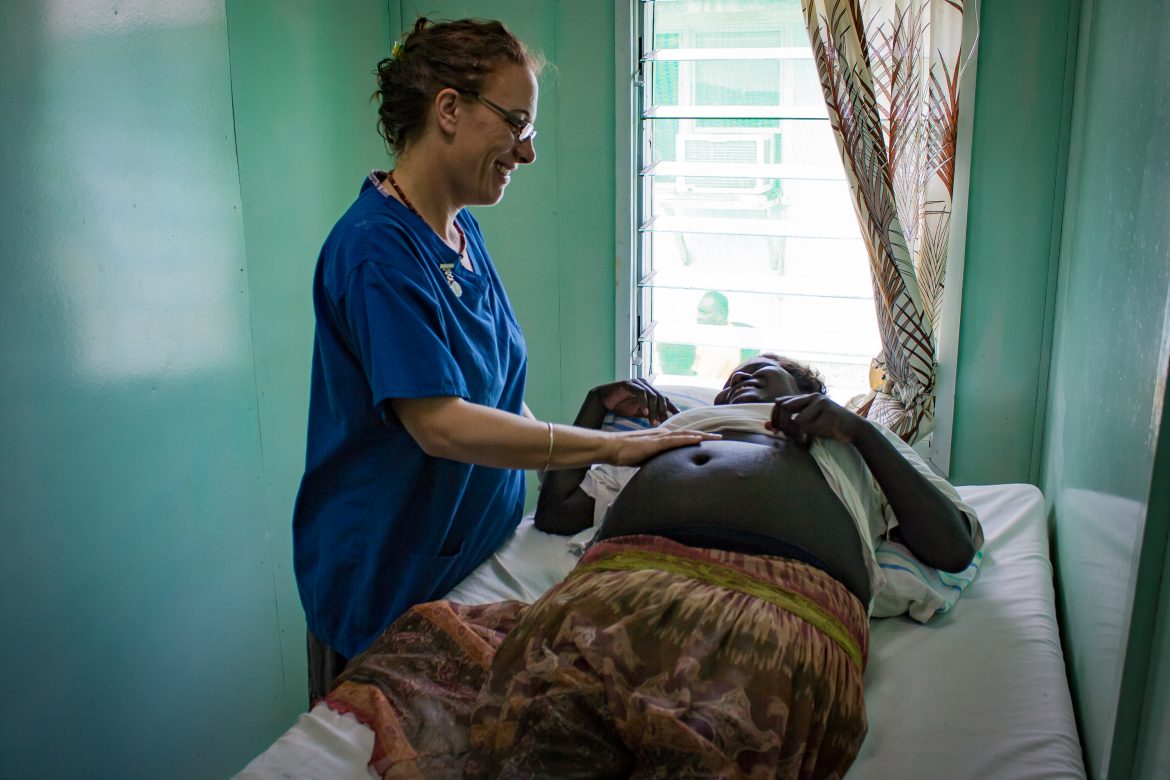 I am interrupting my blog posts about Germany to ask you to pray for Beth Leeming, pictured here when she was working as a Methodist Church (UK) Mission Partner at Helena Goldie Hospital, Munda, Solomon Islands in 2009.
I learned recently that Beth was hoping to go out to volunteer as a midwife in the refugee camp on the island of Samos, which I visited with Churches Together in Britain and Ireland last May. We are pleased that MWiB is able to support her and ask you especially to pray for her as she prepares for and undertakes this visit.
Beth writes:
Greetings to MWiB! I am an unusual hybrid in that since marrying 19 years ago, my husband and I have worshipped in evangelical Anglican churches, yet we have also been Methodist Church (UK) Mission Partners. From 2006-2009 my husband Mark and I, along with our three children served as Methodist mission partners, at Helena Goldie Hospital, Munda, Solomon Islands, where we worked as midwives and in nurse education. Since our return to the UK, Mark has trained as a medical doctor, and is now training as a GP. I have juggled midwifery, motherhood and Methodist Church(UK) Mission Partner selection. Hence we have felt blessed by a continued association with Methodist Church World Church Relations.
During the summer of 2016, I set about praying about how I might serve the Lord in new ways. I was prepared to have a career change, if that is what I felt God wanted me to do. Much to my surprise, I felt that God was confirming that He wanted me to remain in Community Midwifery, and that He could use me in a very positive way. I also felt that the theme of 'Refugees' kept coming up in my prayer life. I spoke to my Minister in Newcastle upon Tyne about this, and also David Friswell from Methodist WCR. I strongly feel that God's hand is upon this opportunity to serve Him at the Medin Camp on the island of Samos, which has come about via the support of David Friswell, Roy Crowder (European Partnership Co-Ordinator), and Christine Elliot, who was our first line manager at Methodist WCR, and as many of you will know, is now heavily involved in supporting refugees in Greece via her work for Churches Together in Britain and Ireland.
I am certain that many of the experiences that I gained as a Methodist Mission partner in the Solomon Islands will have helped to equip me to cope with the experience of working on Samos. Whilst I can only go to Samos for two weeks (11/2/17-26/2/17), due to the necessity of needing to go in annual leave from my job, plus the requirements of having a family to look after; I trust that God will make it clear whether serving in this way should become an annual commitment. I am also certain that God can use the experiences that I gain in Greece, to augment the effectiveness of my care of asylum seeking mothers here in the UK. I also believe that there is value in acting as a conduit of Christian love, prayer and giving to those in such dire need.
I am anxious about what I will face, in terms of coping with ministering midwifery care and Christian love to women and teenage girls that are in such desperate circumstances- particularly knowing that a proportion of them will be pregnant as a result of rape or exploitation. Hence I am so grateful to MWiB for their prayers for my safety, resilience and ability to care for these women to the very best of my ability. Please also pray for my Greek colleagues, working in the camp long-term, and of course the many adults and children who find themselves stranded as refugees on the Aegean islands- particularly in terms of the overcrowding of camps, and currently in relation to the extreme cold that they are facing.