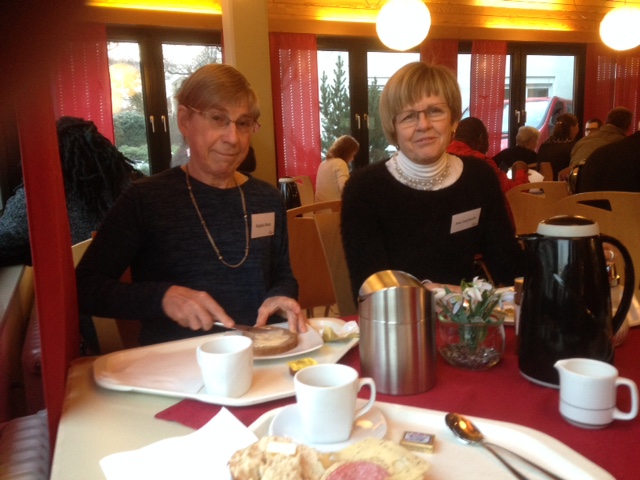 Since I posted the blog on Saturday, Pamela and I have attended morning worship in the Friedenskirche in Chemnitz, travelled four hours in a hired car to Stuttgart and settled into our next accommodation here. We are taking part in a Leadership Training Seminar for International and Migrant Methodist Congregations in Europe. It is proving to be a fascinating week as we meet with Christians from many different settings and many different countries. I have even been able to offer to help with translation from English into French for a participant from Algeria!
We recognise several of the participants from our travels last week. Also here is Regula Stotz, from the Methodist Church in Switzerland. Many of you will recognise her as the former Vice President of the World Federation of Methodist and Uniting Church Women. I met her at the World Assembly in Houston last August. We shared a breakfast table together this morning, with Ana, who also comes from the same Swiss church.
Today the programme has run from morning prayers at 7.45am, through an excellent Bible study, a lecture, two workshops and presentations this evening from people working specifically with refugees, in Bremen, in Chemnitz and in Greece. We ended the evening with lively and thought provoking worship led by the Zimbabwe Fellowship. I got back to my room at 9pm and am glad to have time to write this for you before a relatively early night. Tomorrow we start again at 7.45am!
Der Tag, mein Gott, ist nun vergangen
und wird vom Dunkel überweht;
am Morgen hast du Lob empfangen,
zu dir steigt unser Nachtgebet.
Gute Nacht! Schlaft gut!