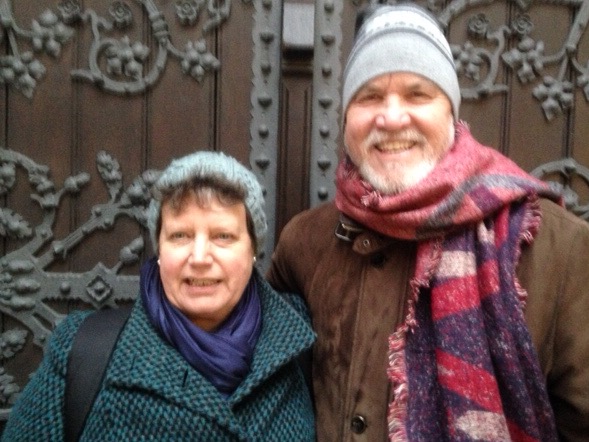 Today's programme has again been full and varied. Morning prayers at 7.45 were led by Rev Frank Eichele and after breakfast we enjoyed another excellent interactive Bible study on the lectionary readings for Lent led by Rev Jay Rundell, President of the Methodist Theological School in Ohio.
Rev Bill Mullally, President of the Methodist Church in Ireland, arrived here today with his wife, Val, and spoke to us after morning coffee from his experiences in South Africa and Northern Ireland.
After lunch we went by coach to Reutlingen, about an hour from Stuttgart, and Bill and I were photographed together. It was rather a cold afternoon, as you can no doubt tell from our jaunty woollen headgear!
The evening ended with Vespers, a relaxed session of Irish music and story led by Rev Barry Sloan.
Pamela flies back to England tomorrow morning. It has been so good to share these two weeks with her and to reflect together on all that we have learned. I strongly believe that where possible it is good to make these visits in pairs, supporting each other and seeing the experience from varied perspectives. A good principle for all sorts of ventures, really!
We are pilgrims on a journey,
and companions on the road;
we are here to help each other
walk the mile and bear the load.