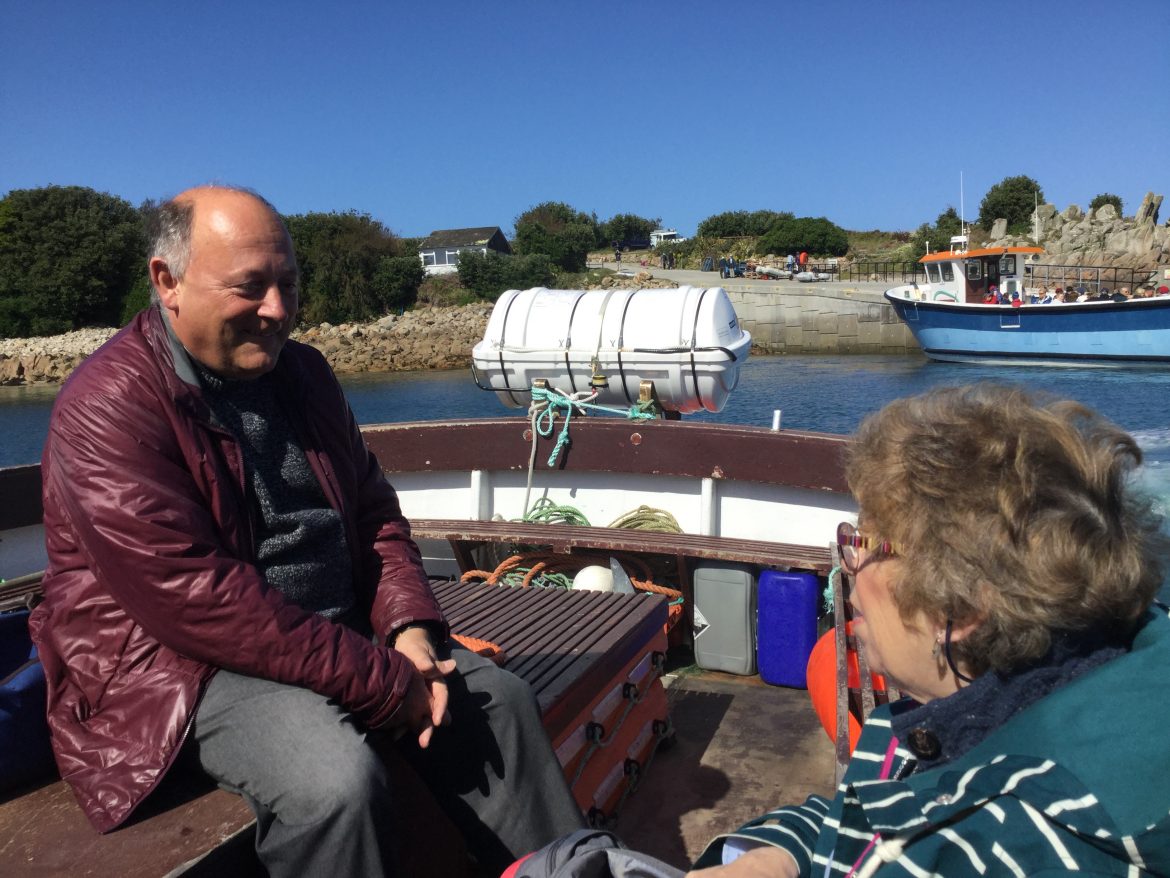 Still on my visit to the Isles of Scilly, I am writing this blog from Juliet's Garden Restaurant, at a window table looking down over Taylor's Island and across to The Quay on St Mary's.
Yesterday I gained a real insight into church leadership here. The photo shows the Methodist Superintendent Minister, Revd Jane Willcock, chatting with her Anglican colleague, Canon Perran Gay, Chaplain to The Isles. We were on the boat back from the 9.15 service on St Agnes. Jane and Perran are such seasoned sailors, able to sit there confidently, without having to hold on as tightly as I was doing!
We arrived back on St Mary's just in time for our second service of the morning, a united Family Communion at the Parish Church of St Mary the Virgin. We joined parishioners and visitors to the island for coffee after the service, had a hasty lunch at the Methodist Manse and then set out again for the boat to St Martin's and the Methodist service there.
On both off islands we were met at the quay and transported to the church by local members of the congregation. The congregation at St Martin's made us very welcome and after the service flasks of tea were brought out for the minister and the preacher, and biscuits for the congregation. I was privileged to be invited to preach at all three services yesterday, to such a wide range of congregations.
In the evening the Methodist service was held in the downstairs meeting room at the Manse, and it was so well attended that some people had to sit outside in the hallway! I shared stories of my visit to refugees in Greece and we reflected on the theme of the sort of hospitality which affords dignity and respect and offers the love of Christ to others who become part of our communities for whatever reason.
At the end of the day we eventually settled to a roast chicken meal at about 8pm, the food provided by Jane and John and cooked and prepared by Anne, one of the other visitors staying at the Manse this week. I have learned, too, that island life means your meals can be determined by what you can get at the local Co-op! On Friday evening they had sold out of milk, yesterday lunchtime there was no lettuce. Jane keeps commenting that the key to living here is flexibility. I understand what she means!