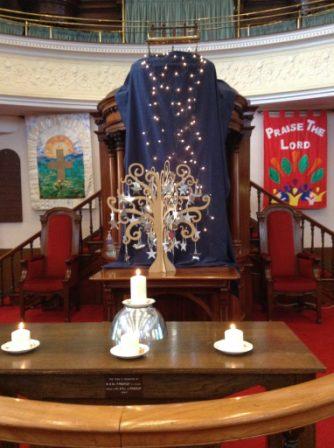 Another guest blog today! Linda Crossley, President of MWiB until I was commissioned in 2015, has sent me her reflections, which I would like to share with you today. The photo is from Joy Coates, who has recently moved Districts, from York and Hull to West Yorkshire. This was taken at the North Kirklees and Morley Circuit service held at Batley Central Methodist Church.
Linda has written:
Reflection on Easter Offering Service 2017 – Shine like stars
This service began for me in Spring 2016 when the Task Group – five of us meeting to prepare it – first met. Our meeting to finalise the service was on 17 June. I had travelled to London the previous day for another event, where I heard the shocking news that Jo Cox, the MP whose constituency made up a large part of my circuit, had been murdered. For the whole country this was dreadful, but it was so close to home – Jo was a local girl whose parents and sister live locally, she went to the same secondary school as my son, and had visited his first school on the morning before she died.
Our meeting the following day was held in a context of shock and numbness. I was deeply touched that Alison Judd, during her train journey that morning, had written a reflection based on the Bible verse which provided the title of the service, Philippians 2: 15. On my return home on the Saturday I was able to send this reflection to all the ministers and local preachers in our circuit, showing how we had been supported by prayer and thought within the Methodist family.
It was said so often in the weeks that followed how Jo had engaged with all sections of her constituency communities, having declared in her maiden speech following her election in 2015, that we have "more in common" than that which divides us. May we all continue our work to bring the light of Christ into darkness, perhaps even doing something in Jo's memory on the anniversary of her death, 16-18 June. See www.greatgettogether.org