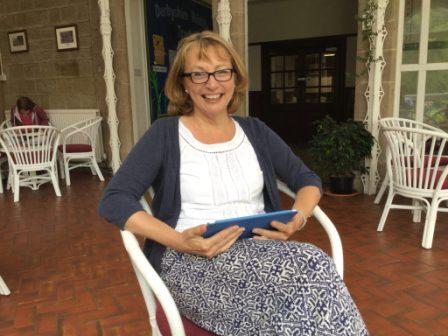 Today I have boarded a train again, this time to come up to Swanwick for the Methodists for World Mission Conference at The Hayes Conference Centre. Carolyn Lawrence and I discovered that we had booked to travel on the same train, with seats conveniently situated across the aisle from one another. We caught up with news and then both settled to read through volume one of the agenda for Methodist Conference later this month! Volume two will drop through the letter box soon, with a heavy thud!
We have arrived with time to spare and are catching up on our emails in the airy conservatory here at the conference centre. I was given a lovely welcome by Maureen, who has been on our last two MWiB weekends here. I am looking forward this time to a weekend for which I am not quite as responsible! I have been invited to lead workshops tomorrow and will share stories and learning from my visits to refugees in Germany and Greece over the past three years. It will be good to network and to share fellowship with others who are keen to explore the 'big map' on which we live.
When I took over writing this blog in June 2014 you may remember that I posted daily updates. I felt you needed to get to know me! I then settled into a pattern of two to three blogs per week, depending on what there was to write about as I travelled the Connexion. I have a feeling that I may revert to daily updates now, as I approach the end of my presidency and prepare to hand this over to Sandra! It will be strange not to communicate in this way after two years of blogging!