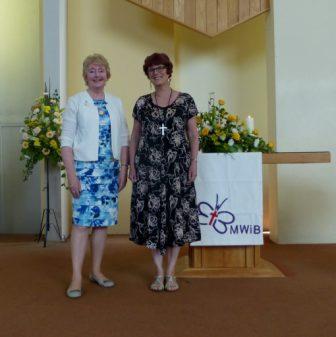 The Manchester & Stockport MWiB met for its "At Home" Service and were inspired by an inspirational talk by the ex Vice-President of Conference, Dr Jill Barber.
We were welcomed to The Avenue Methodist Church, Sale, by the Rev Glayne Worgan, and the service was taken by the District president Sheila Tonkin.  Dr Jill Barber took as her theme "Inspirational Women of the Early Methodist Church".  She gave a wonderful message talking about Dorothy Ripley, Mary Porteous, Mary Lee, Jane Hall and Charlotte Edwards.  There stories are an example to us all in what can be done if we trust in God and follow his call.
The afternoon ended with Afternoon Tea being served by the ladies of the Church.  Everyone had a wonderful time.
Pictured above: Sheila Tonkin and Jill Barber; below: afternoon tea.