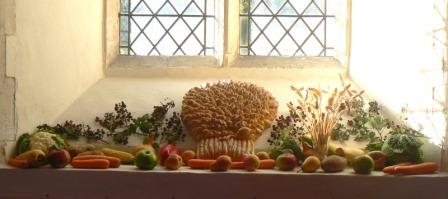 Harvest festivals will soon be on the horizon, if you haven't had yours already, and in this day and age the bringing of fresh produce has been very much superseded by the needs of Food Banks and the fresh produce is often just a token in the decoration.   I can hear the cries of anger from those of you who still have the traditional harvests, but with the shops supplying foods at all times of the year, I actually miss the anticipation of waiting for a crop to be ready and the small window that we used to have for certain fruits and vegetables which would be in abundance for a few weeks and then the wait of anticipation again until the following year. Childhood memories for me  include smelling a tomato freshly picked and seeing a line of green tomatoes on the kitchen window sill waiting to turn red and eventually being made into green tomato chutney.
As a preacher, the temptation to pluck a grape during the service from the luscious display on the pulpit, has been very difficult to resist, but the reason for our festivals is that of thanksgiving, and even city dwellers will sing with conviction "All is safely gathered in."
These festivals still resonate with non church folk. They are an ideal time to invite someone to church or back to church, there is a familiarity and memory that speaks of a time that appeared to be self sufficient and bountiful. When the sun always shone and all was right with the world. We know that's not true, but when we live in troubled and unstable times to stop and give thanks for what we have, to marvel at the colours and beauty of harvest, to connect if only for a short time with the rhythms of the seasons, somehow roots us back to the earth, after all it is in our DNA.
To God, the Creator
Who loved us first and gave this world to be our home
To God, the Redeemer
Who loves us by dying and rising to give us freedom
To God, the Sanctifier Who fills our hearts with divine love
Be praise and glory for all time and eternity.
Amen
Prayer for the Week written by Denise Creed