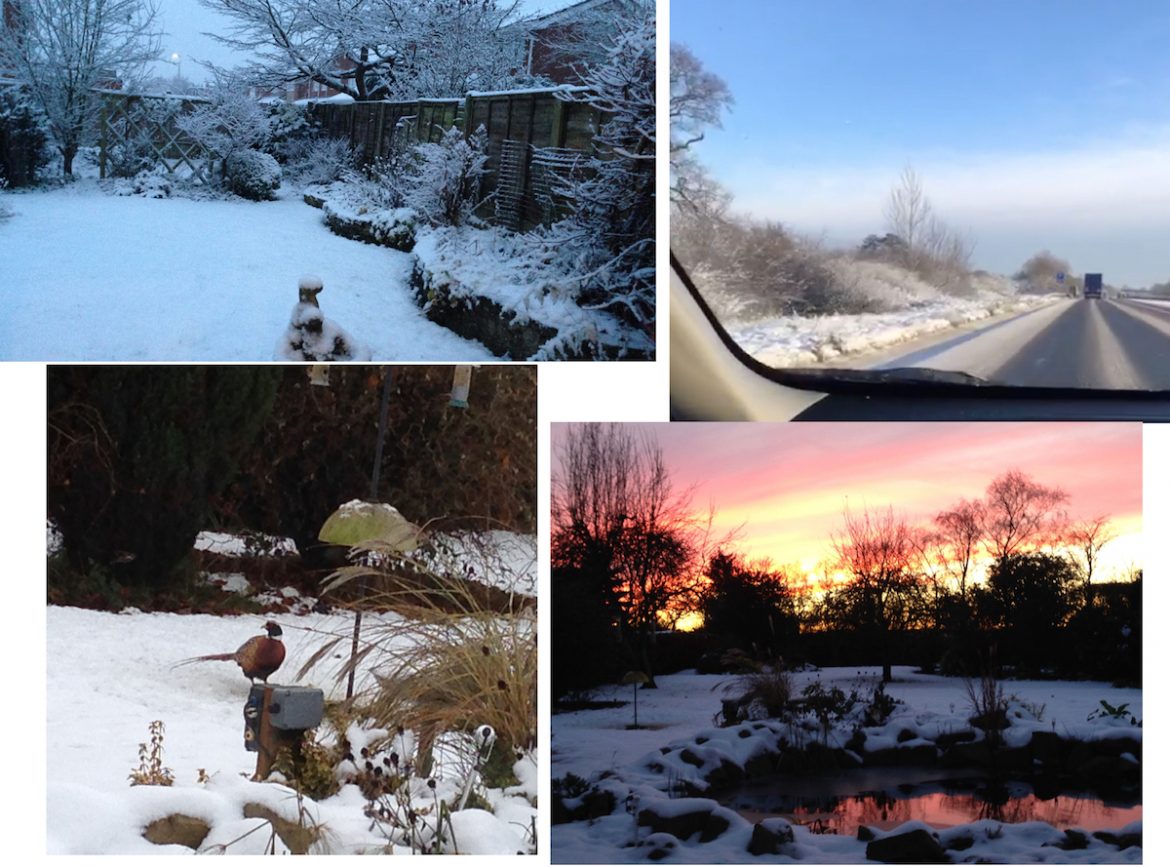 Last weekend David and I made one of our regular trips to Cheshire to visit family. We set out in pouring rain from Bedfordshire and arrived late morning in glorious sunshine, put the dinner in the oven and set off to visit my mother. All had gone well up to that point. I should mention that my grandchildren, Emily and Lily, were due to sleep over for a couple of nights.
The first hiccup occurred when we heard that a water main had burst outside their high school causing traffic chaos. So setting off from Mum's earlier than usual I collected the girls and discovered that Emily was feeling unwell. After an interesting evening both eventually settled off to sleep. The following morning, I duly delivered Lily to school via the burst water main, and Emily remained in bed. Adapting our original plans, we stayed at home and caught up with admin. Lily was collected from school in the afternoon and things returned to normality for a while.
Then it began to snow, and snow, and snow!!!
Sunday dawned bright and crisp and even (photo top left). Fortunately, the morning service at Nantwich had been planned by the stewards so the majority of the leaders were present. A quick phone-call to the planned organist prevented him from making a difficult journey and David stepped in. Abandoning the idea of David returning home by train on Sunday afternoon for his Hospice duty on Monday, we awaited the return of the girls.
Monday morning dawned to even thicker snow!!
Leaving David trying to persuade Toby that he really did need to go out even if the snow was up to the top of his legs, the girls and I set off for school. With minor roads like ice-rinks we slithered our way to the gritted main roads and made our way arriving 40 minutes later, but in plenty of time for registration.
Girls safely delivered and now absolved of our responsibility, David and I set off back towards Bedfordshire (photo top right).
After an 'interesting' but enjoyable weekend two wonderful treats awaited us on our return home. We discovered that a new visitor had joined the birds in the garden (photo bottom left) and at the end of a very busy day we sat at the dining table admiring the glorious sunset (bottom right).
One of the most important lessons we learn in life is adaptability. Sometimes we find it easier than others. God calls us to be adaptable too, to listen, to learn, to go forth in his name. Sometimes this fits in with our plans and at other times we need to adapt.
Every blessing
Sandra